Choose Yourself! is James Altucher's way of going true life while staying true to yourself. It's a book full of his personal successes and a lot of failures (and I mean a lot!).
Book Title: Choose Yourself
Author: James Altucher
Date of Reading: August, 2017
Rating: 6/10
What Is Being Said In Detail:
Choose Yourself is a collection of mini-chapters that make up the book. The chapters are loosely connected to each other; each talking about a certain topic that's both connected to living a good life backed up by James' experience in business, love, and friendship. Each chapter can also be read in isolation and it would still make sense for the reader. The chapters are the following:
I CHOSE MYSELF: AN INTRODUCTION
THE ECONOMIC HISTORY OF THE CHOOSE YOURSELF ERA
PERMANENTLY TEMPORARY
AND THEN THEY ALL LAUGHED
DOES ONE PERSON HAVE CONTROL OVER YOUR LIFE?
HOW TO CHOOSE YOURSELF
THE SIMPLE DAILY PRACTICE
WHAT IF I'M IN A CRISIS?
CHOOSE YOURSELF TO LIVE
FINDING YOUR PURPOSE IN LIFE
HOW TO DISAPPEAR COMPLETELY AND NEVER BE FOUND
JUST DO IT
LET'S GET SPECIFIC: WHAT SHOULD I DO?
IT DOESN'T COST A LOT TO MAKE $1 BILLION
BECOMING A MASTER SALESMAN
HOW TO BECOME AN IDEA MACHINE
TEN IDEAS TO START YOU OFF
DON'T HAVE OPINIONS
HOW TO RELEASE THE GOD HORMONE
THE SEVEN HABITS OF HIGHLY EFFECTIVE MEDIOCRE PEOPLE
HOW TO BE LESS STUPID
HONESTY MAKES YOU MORE MONEY
YOU'RE NEVER TOO YOUNG TO CHOOSE YOURSELF: NINE LESSONS FROM ALEX DAY
THE CURIOUS CASE OF THE SEXY IMAGE
WHAT I LEARNED FROM SUPERMAN
GANDHI CHOSE HIMSELF TO FREE AN ENTIRE COUNTRY
NINE THINGS I LEARNED FROM WOODY ALLEN
COMPETENCE AND THE BEATLES' LAST CONCERT
WHAT TO DO WHEN YOU ARE REJECTED
SURVIVING FAILURE
TAKE OVER THE WORLD
Most Important Keywords, Sentences, Quotes:
FOREWORD
"There's no one path. There's every path. Every path starts with this one moment. Did you choose yourself for this moment? Can you be bold? Then all paths will lead to the same place. Right now. #chooseyourself" 
I CHOSE MYSELF: AN INTRODUCTION 
"By 2002 there was nothing left in the ATM machine. I thought running out of money would be my worst moment. Worse than death. I was wrong. At the end of 2002 I had a conversation with my parents. I was angry and depressed. We got into an argument. Over what—it doesn't matter anymore. I hung up the phone and cut them off."
"This kind of thing hasn't just happened to me once. Or twice. But many times. In the past twenty years I've failed at about eighteen of the twenty businesses I've started. I've probably switched careers five or six times in various sectors ranging from software to finance to media. I've written ten books. I've lost multiple jobs. I've been crushed, on the floor, suicidal, desperate, anxious, depressed. And each time, I've had to reinvent myself, reinvent my goals and my career. On most occasions, I didn't realize what steps I was repeating over and over, both positive and negative. Once I achieved success I would inevitably return to my negative habits and start squandering my good fortune." 
THE ECONOMIC HISTORY OF THE CHOOSE YOURSELF ERA 
"There's a saying, "The learned man aims for more. But the wise man decreases. And then decreases again."
PERMANENTLY TEMPORARY 
"You no longer have to wait for the gods of corporate America, or universities, or media, or investors, to come down from the clouds and choose you for success. In every single industry, the middleman is being taken out of the picture, causing more disruption in employment but also greater efficiencies and more opportunities for unique ideas to generate real wealth. You can develop those ideas, execute on them, and choose yourself for success." 
AND THEN THEY ALL LAUGHED 
"Try this exercise: Think for a second of ten different times you've been rejected. Were you rejected for a job? Did you have a novel rejected? Did a potential girlfriend/boyfriend reject you? Listen. Now think about this: how easy would it be to list one hundred? I can probably list one thousand. But what if you never try? What if you are afraid to try for fear of being rejected?"
"You build that house by laying a solid foundation: by building physical, emotional, mental, and spiritual health."
DOES ONE PERSON HAVE CONTROL OVER YOUR LIFE? 
"Dan Quayle might be the greatest vice president ever," I said to one girl as she lit up my cigarette even though I didn't smoke, and I probably thought Dan Quayle was the worst choice for a vice president ever. And then when I leaned in for the kiss at the end of the date…"I don't feel about you that way." Rejected."
HOW TO CHOOSE YOURSELF 
"I used to go out every night. You never know, I would think. I used to go to every business meeting I was invited to. You never know, I would think. I used to go on TV every time I was asked. You never know, I would think. Maybe someone would SEE me. And call me and offer me and give me and want me and like me and love me. Maybe they would press the LIKE button on my face. Brilliant."
"Every time you say yes to something you don't want to do, this will happen: you will resent people, you will do a bad job, you will have less energy for the things you were doing a good job on, you will make less money, and yet another small percentage of your life will be used up, burned up, a smoke signal to the future saying, "I did it again."
"Here's an exercise I do that can help in this regard: I try to be quiet. Instead of speaking the average 2,500 words a day that most people speak, it would be nice for me to speak just one thousand words a day when possible. This forces me to carefully choose my words and who I engage with." 
THE SIMPLE DAILY PRACTICE 
"This is how we form a better society. First we become better as individuals. You can't help others if you look in the mirror and hate what you see. And it's very easy to hate what is there. We live most of our lives hating the mirror. Heck, I'm pretty gruesome to look at in the morning. It's a daily challenge!" 
"In all those lines, ONLY THREE OF THEM refer to physical exercise. It basically reads, "Be able to sit up straight." That's it. That's the only reference in the Yoga Sutras to physical exercise. Claudia always tells me that yogis measure their lives in breaths, not years. Deep breathing is what keeps those breaths going." 
WHAT IF I'M IN A CRISIS? 
"Eight days later he wrote back, "Thanks! Guess what? I paid the rent. I'm still alive."
CHOOSE YOURSELF TO LIVE 
"How did he publish his book? He didn't need a publisher to choose him. He didn't need an editor to say, "It has to be 200 pages." He didn't need a marketing expert to put it in a few bookstores, where it would waste away. The same way he chose himself to LIVE (by forming his own personal Daily Practice) he chose himself to write and, to this day, continues a pattern of choosing himself for success. His book went on to become a bestseller. And he did it all himself. Just like Tucker Max did. Just like I do, and did with this book. Here's how you can do it:"
FINDING YOUR PURPOSE IN LIFE 
"Other people have found success after changing careers many times: Rodney Dangerfield didn't succeed in comedy until his forties. One of the funniest guys ever, he was an aluminum siding salesman. And then he had to start his own comedy club, Dangerfield's, in order to actually perform as a comedian. He chose himself to succeed! But not until his forties."
"Henry Miller wrote his first big novel, Tropic of Cancer, at age forty. Raymond Chandler, the most successful noir novelist of all time, wrote his first novel at age fifty-two. But he was young compared to Frank McCourt, who won the Pulitzer for his first novel, Angela's Ashes, written when he was sixty six. And, of course, Julia Child was a young fifty when she wrote her first cookbook."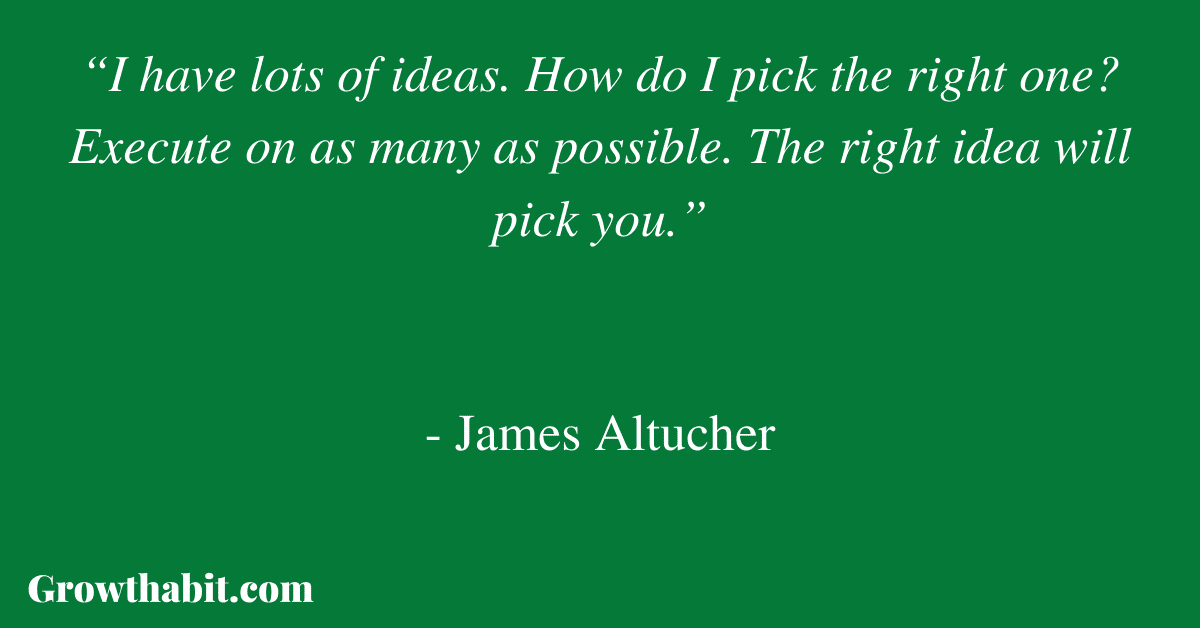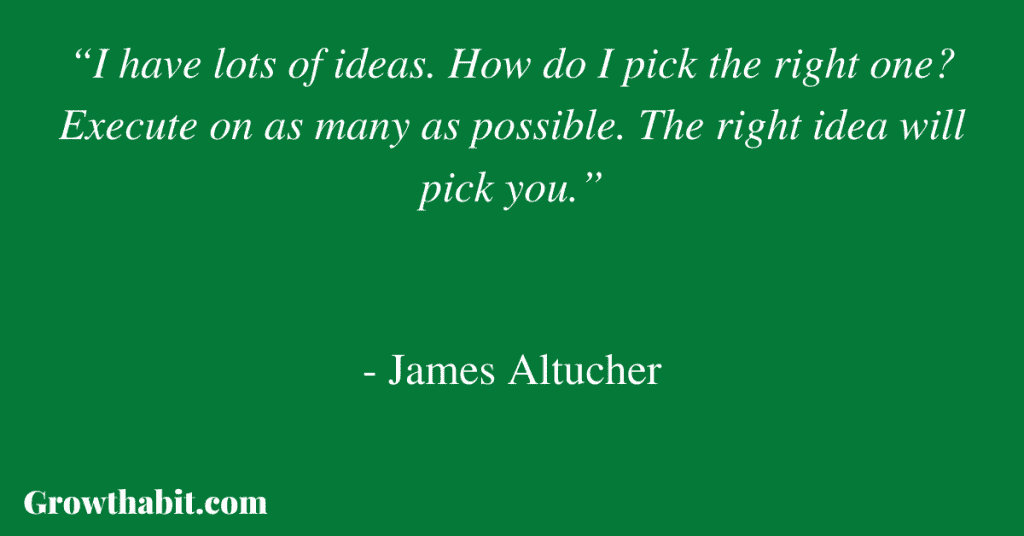 "One of my favorite writers of all time, Stan Lee, created the entire universe for which he is known— the Marvel Universe—when he was forty-four, inventing Spiderman, the Fantastic Four, the Avengers, and others along the way."
"Harry Bernstein was a total failure when he wrote his bestselling memoir, The Invisible Wall. His prior forty (forty!) novels had been rejected by publishers. When his memoir came out, he was ninety three years old. A quote from him: "If I had not lived until I was 90, I would not have been able to write this book, God knows what other potentials lurk in other people, if we could only keep them alive well into their 90s."
"Someone asked on Quora, the Q&A website, recently, "I feel like a failure for being 27 and not knowing what I want to do in my life. What should I do?" My response was that when I was twenty-seven, I had yet to start a business, yet to ever fall in love, yet to write a book, yet to make a TV pilot, yet to fail at twenty businesses in a row, yet to run a hedge fund, VC fund, even become a chess master (which happened at age twenty-eight for me). Most important, I had yet to fail.
HOW TO DISAPPEAR COMPLETELY AND NEVER BE FOUND 
"I'll give you one example. A friend of mine created database of all houses in the United States that are "rent to own." In other words, they are for sale, but the owner is willing to rent the houses until the rent paid in equals the price he would've gotten for the house. How did he create the dataset? He basically looked at about a dozen other databases keeping track of all housing data and scraped specifically the rent-to-own houses off of them." 
"So he solved a problem affecting a lot of people. He advertised on Google by buying keywords like rent to own. In order for someone to look at his database, they have to buy an annual subscription. Since people could potentially spend hundreds of thousands on the right house, they were willing to spend a few hundred on a subscription to his database, which he updates every day with new listings. Last month when I called him, he had made $300,000 from his database. I tried to call him the month before that, but I couldn't reach him. He was on vacation in Greece. For the entire month."
JUST DO IT
"It's not as bad as I am making it sound. Every situation is different problem, and I like solving problems. It makes me feel like a detective. And I'm very good at it. But let me tell you something. Nobody wakes up in the morning and says, 'I can't wait to clean out some shit today.' I've never heard any of my buddies who are plumbers say that. But what you learn is that you do the job and you try to make sure you are happy in other parts of your life so the job doesn't get you down." Inner balance. Inner health. I'm sick of people saying entrepreneurs have it tough. And, by the way, that includes me. I've written it plenty of times. I'm sick of me doing it. Here's what I never wanted to do in my life: Be a plumber Work in a cubicle (although I did for many years) Be a temp staffer (although I was)"
"To think I paid for a great steak dinner for six just so I could hear a pitch about a time machine and a device that makes black holes. I'm about to sue myself right now." 
"MAKE A LOT OF MONEY. A lot of money. Let's be real. That's the main reason to be an entrepreneur. "But the economy?" someone might say. There is more money floating around than ever before. And a lot of that money is buried and hidden from you. Time to reach out and touch it. The stock market has a capitalization of several trillion dollars. There's another $2 trillion in private equity funds. There's $50 trillion in transactions in the global economy every year. If you make money, someone will buy your company. Or, even better, you'll make so much money so fast you don't have time to sell your company."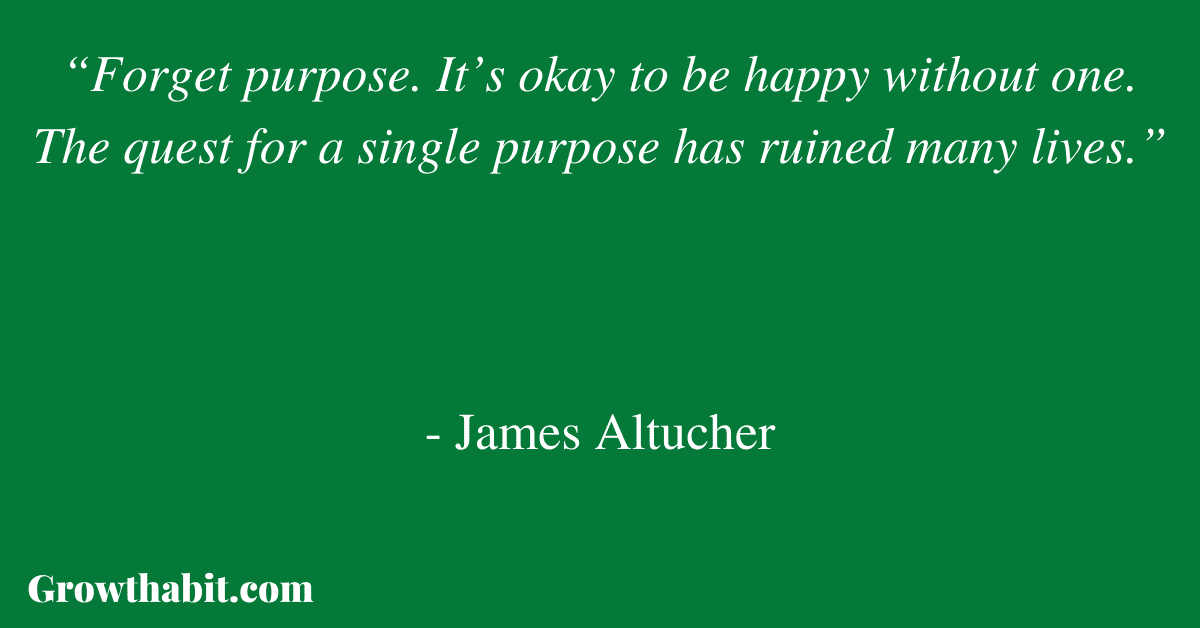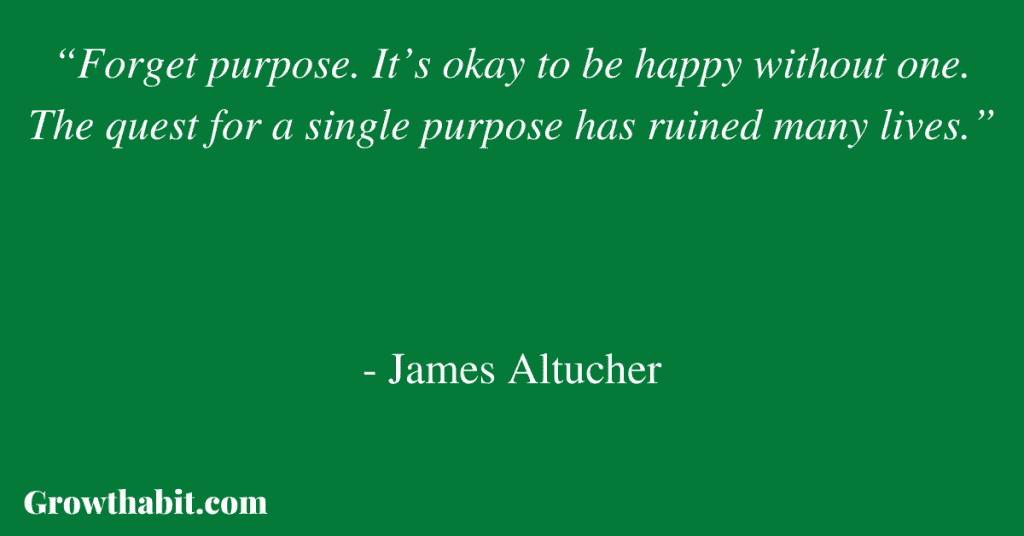 "BE AROUND LIKE-MINDED PEOPLE. In every business, I've loved meeting my competitors. The reality is there's no such thing as competition. The world is big enough for two people in the same space. If it's not, then you are in the wrong business. Your sector should be big enough for a hundred competitors. That's great news. It means you're probably going to make money."
"BE AN EXPERT. When you start a business and you have a service or product that is good enough for people to use over other similar products or services, then you are now an expert in your space. Even if you are new to the space, you're an expert. I like that feeling. I like giving talks. I like writing about the areas that fascinate me. I like starting businesses or being involved in sectors of industry that fascinate me. Sometimes you shouldn't be an expert and yet you still are." 
"ONE LAST THING. I've discussed the reasons why this major paradigm shift is occurring. It's not that the system is out to get you. Or the system is imploding. This is not a conspiracy theory about the government or capitalism or the "1 percent." This is actually a great opportunity for people who can now navigate the rough surf that history is throwing up on our shores."
LET'S GET SPECIFIC: WHAT SHOULD I DO? 
"I really disliked my job," he said, "and I never believed in the idea of getting a fixed wage. I had been a salesman before in the credit card processing business where I would go out and get merchants like restaurants and retailers to switch their business to the company I was selling for. So I figured I could do this but work for myself instead of another company." Rule #1: Take out the middleman." 
"That's all you have to do. Want to take it further? Surrender to the fact that you can't control ALL of the events in your life. Those people you hope to be grateful for probably aren't going to do exactly what you want them to. All you can do is the preparation. The food will taste how it will. Finally, try to label your thoughts: "future" or "past." If you can do that, you stand a pretty good chance of remaining in the present."
IT DOESN'T COST A LOT TO MAKE $1 BILLION 
"It doesn't cost much to make a billion. Sara started with $5,000. That's it. She never took investors. She never borrowed money. Now her revenues are hundreds of millions a year. Facebook spent a few thousand to get to the point where they had 1 million users a day. Google hardly spent any money at first. Not that I'm in the billion-dollar league, but I can tell you that Stockpickr.com cost me less than $5,000 to build and was sold for $10 million a few months later. And the first company I sold cost less than $0 to build. We had profitable clients from day one." 
"Build your product Sell it to a customer Start shipping Then quit your job."
"Never ask permission, ask for forgiveness later. Sara didn't like how Spanx were being displayed at Neiman Marcus. So she bought samples of her own product at Target and displayed them right next to the cash register at Neiman Marcus. She knew innately that nobody would question her. Nobody questions anything if you have confidence, intelligence, and you are proud of your product. This is like the Stanley Milgram experiment mentioned in the chapter "And Then They All Laughed." You just ASK for the subway seat and people give it to you." 
BECOMING A MASTER SALESMAN 
"I didn't enjoy writing finance articles. I'd write a finance article for some random finance site and then repost it on jamesaltucher.com. I had zero traffic. Then I decided to write articles I enjoyed. To get back to my true roots, where I loved writing and reading. I also wanted to really explore all of my failures, my miseries, and my pain. In public. I love being honest and intimate with people. I love building community. I love e-mailing with readers. It was about a little over a year ago that I decided to make the shift where I was just going to open the kimono at jamesaltucher.com and say everything I wanted to say, and at the same time indulge in my love of writing, art, creativity, and reading. More than 4 million "customers" later, I'm enjoying more than ever doing what I love." 
HOW TO BECOME AN IDEA MACHINE 
"Stephen King, in his book On Writing discusses an accident he once had that prevented him from writing for several weeks. When he started to write again he could feel the difference. He said how the words just weren't connecting right. His writing muscle had atrophied. He needed to exercise it again in order to continue writing the nonstop, bestselling thrillers he'd been writing for thirty years. STEPHEN KING!"
"To become an idea machine takes about six to twelve months of daily practice with the idea muscle. Below I discuss how to develop that practice. And again, this goes side by side with the other three "bodies." You can't develop the idea muscle if you're suffering through a bad relationship, or an illness, or you lose your sense of gratitude and wonder toward the world around you." 
"Shaking things up makes the brain say, "What the hell just happened?" And while the conscious brain is confused, the subconscious slips in and drops off what it's been working on while your conscious brain has been too busy. This is why so many people have ideas and "lightbulb" moments in the shower or when they are just about to fall asleep for a nap." 
TEN IDEAS TO START YOU OFF 
"Some of the results have been amazing. At one workshop, I asked people to come up with book titles, then combine their book titles with a partner and come up with a table of contents for the first book title on their combined list. I Have yet to hear of a book from the people who went through this process that I didn't instantly want to read."
DON'T HAVE OPINIONS 
"A) Nobody is ever going to change his mind. For instance, if I say something like "kids shouldn't go to college," everyone either already agrees with me or disagrees with me. Very few minds will be changed no matter how correct I am (and I am correct). Here are some of my other opinions: buying a home is ALWAYS bad. Voting is stupid. Shakespeare is Boring. ZERO wars have been justified. Wyoming, North Dakota, and Montana should be handed over to the Jews and they should move from Israel to the United States. There! Go argue with that one." 
Whenever some guy says something very hateful I imagine: what was it like the first time that person kissed his wife? Did a warm gush of chocolate fill his heart? Did he say to himself, "This second, I am the happiest man alive?" Did he have an erection? Did she kiss him softly on his lips and then his cheek and then his neck? And then, erection intact, did he log onto the Internet as "Guest" and post, "James Altucher is a fucking douchebag."?"
HOW TO RELEASE THE GOD HORMONE
"The vagus nerve stretches from your brain to your stomach and hits every organ along the way (almost). It gets inflamed when your cortisol levels are too high for too long. The vagus nerve basically causes every disease known to mankind. High stress inflames it, as does bad food, smoking, etc. You get the drift."
"BEING TRUSTED. This is hard. You can't force people to trust you. And trusting someone doesn't release oxytocin. But being trusted does. So live your life in such a way that more and more people will trust you. Guess what: you will be viewed in a more charismatic way if people trust you than if people don't trust you. Why not try this? How can you be more trusted? Oh my god, why so many questions today? My hands are already tired. I'm about 1,497 words already." 
THE SEVEN HABITS OF HIGHLY EFFECTIVE MEDIOCRE PEOPLE
"The mediocre entrepreneur understands that persistence is not the self-help cliché "Keep going until you hit the finish line!" It's "Keep failing until you accidentally no longer fail." That's persistence." 
"The best ideas are when you take two older ideas that have nothing to do with each other, make them have sex with each other, and then build a business around the bastard, ugly child that results. The child who was so ugly nobody else wanted to touch it. Look at Facebook: combine the Internet with stalking. Amazing!" 
"And, by the way, it was about the fifth attempt at such a social network. Twitter: combine Internet with antiquated SMS protocols. Ugly! But it works. eBay: combine e-commerce with auctions. The song "I'll Be There." Combine Mariah Carey with Michael Jackson. If Justin Bieber sang John Lennon's "Imagine," it would be a huge hit. I might even listen to it." 
HOW TO BE LESS STUPID
"The manager asked me to put my demo CD into the computer and show him what I had. The only problem: his computer was running Windows. At that point I had never in my life used a Windows machine, only Macs and Unix. So I had no idea how to put the CD in there and get it running. He laughed me out of the room. I had a chess lesson afterwards. I couldn't play at all. It was like I didn't even know the rules. My instructor, a chess grandmaster, said, "What's wrong with you today?" I was ashamed. And angry at myself. So my intelligence went way down—like 80 percent down." 
HONESTY MAKES YOU MORE MONEY 
"But here's the truth. Dishonesty works…until it doesn't. Everyone messes up. And when you are dishonest, you are given only one chance and then it's over. You're out of the game—at least until you get your act straight and you have to start from scratch with your tail between your legs."
"BE THE SOURCE. "But if I give ideas for free, what if they could've made a billion dollars? I always get screwed by my partners." If you are the source of ideas, then you are ALWAYS the source. Forget the losers who steal. Move on. You become THE fountain of ideas. People come to the fountain and make wishes and throw money in. Don't be a trickle of dirty water. Be the fountain and let people know it by giving away all credit and rewards."
"Then Google is completely honest. They come back right away and say, "We know ABSOLUTELY NOTHING about motorcycles BUT if you go to these ten or so websites, we think these are the best sites where you can find out about motorcycles."
"Ten years later I ran into the employee who became CEO of that spinoff company. He ran after me and called my name. It was in Times Square in New York. We hadn't spoken in almost ten years. His company had greatly expanded. They had taken in major investors, and the company was now profitable and had lots of employees. He told me that when he walked the floor, he always pictured two people as his role models: his commander in the Israeli Army. And me. I felt really honored. He had greatly helped me when I was building my business. And Now it was an honor for me to help him back in that way. I don't ever have to benefit off of his business. But his business is helping many people now and, in its own way, that creates abundance for me. The abundance can never stop when you help others." 
YOU'RE NEVER TOO YOUNG TO CHOOSE YOURSELF: NINE LESSONS FROM ALEX DAY
"I wish I had been smarter when I was twenty-three years old. I did everything wrong: I felt like I needed a college degree. I felt like I needed a graduate degree (I was ultimately thrown out of graduate school). I felt like I needed a publishing company to "choose me" to be a writer. I felt like I needed a big corporation to hire me so I could validate that I was smart, that it was okay for me to be successful. I needed none of these things. You need none of these things." 
"Alex Day is a perfect example. If you've never heard of Alex Day, that's okay. Most people haven't. But enough have. And they LOVE him. Alex is a twenty-three-year-old musician from England. Since 2009, when he was nineteen, he's released three studio albums, had three UK Top40 hits, and accrued 100-plus million views on his YouTube channel. He did all of it with no record label and mostly just the support of his YouTube fans. His third, most recent album came out in the UK the same day as Justin Timberlake's long-awaited, much-discussed 20/20 Experience album (his third, also).
THE CURIOUS CASE OF THE SEXY IMAGE 
"Years ago I read an interview with Gabrielle Reese where she was asked how she deals with the pressures of being a pro athlete, SI model, mother and wife of Surf God Laird Hamilton. She said, "In life, you will always have 30 percent of people who love you, 30 percent who hate you and 30 percent who couldn't care less." When I heard that, my entire worldview changed."
WHAT I LEARNED FROM SUPERMAN
"Also, I try to cultivate friendships the way Superman cultivates friendships. He doesn't hang out at the bar with Lex Luthor. Superman is only friends with the Superfriends: the Flash. Black Canary. Wonder Woman. Batman. They all have secret identities. They all see a world totally out of balance. They all have powers they use for good, and which they use to bring balance back to the world. All of my friends are superheroes, too. Each one of my friends has a different power. But they are all amazing powers and I'm blessed when I see those powers in action. And once someone joins the bad guys, they are no longer my friend. I'm busy saving lives. I don't need bad friends." 
GANDHI CHOSE HIMSELF TO FREE AN ENTIRE COUNTRY 
"Five lessons from this:"
"1. Nobody can tell you what to do." 
"It is through silence that sound, activity, and action erupts."
"5. Nothing is more important than the cultivation of yourself. So many people think they will save the world if they defeat "them," where "them" is some evil force that is bringing the world down. But once you divide the world into categories, into an "us" versus "them," then you immediately become a "them" and lose touch with who you really are. And before long you're calling me a fucking douchebag on the Internet." 
NINE THINGS I LEARNED FROM WOODY ALLEN 
"Try this exercise: pretend everyone was sent to this planet to teach you. Famous people, dead people, your neighbors, your relatives, your co-workers. This will give you a strong feeling of humility. And guess what, you will learn from people, you will appreciate them more, and they will actually appreciate you more. Because everyone loves to teach." 
"Allen puts out a new movie every year or two. None of them will compete with Star Wars or Harry Potter in terms of gross dollars. But that doesn't seem to bother his studio. They give him $10 million, his movie makes $20 million, everyone is happy, and he gets to keep doing what he's doing."
"5. Avoid outside stimulus. These days, I make a huge mistake every day. I start off with the loop: email, Twitter, Facebook, my Amazon rank, my blog stats, my blog comments. Claudia asks me, "Did you finish the loop yet?" And I think it will only take a few seconds but it actually takes about twenty minutes. I probably do it ten times a day. That's two hundred minutes! Three hours and twenty minutes! Ugh." 
"Wake up early. Avoid distractions. Work three to five hours a day and then enjoy the rest of the day. Be as perfectionist as you can, knowing that imperfection will still rule. Have the confidence to be magical and stretch the boundaries of your medium. Combine the tools of the medium itself with the message you want to convey. Don't get stuck in the same rut—move forward, experiment, but with the confidence built up over experience. Change the rules but learn them first."
COMPETENCE AND THE BEATLES' LAST CONCERT 
"I say it was a "concert" because people in the blocks around them quickly began to realize what was happening. People couldn't believe it. You see office workers climbing out of windows and down ladders to get a better view. Women running up and down the streets to try and see better. An older man with a pipe climbing up a fire escape to stand on a rooftop and watch. After about ten minutes, the streets were crowded with people staring up at the roof of the building where the music was coming from. People on the ground couldn't see the band but they knew it was them. The effect of the Beatles singing live shut down London for a half hour."
WHAT TO DO WHEN YOU ARE REJECTED 
"ASK FOR ADVICE. Someone rejected you? Poor baby! Now, after your mourning is over, ask why. You're going to be rejected all your life. In every way. It never hurts to understand why. Sometimes they will even tell you and, in those cases, it's a guarantee that you will remember.
"The other day I read that 76 percent of the universe is comprised of "dark energy." In other words, we have zero clues as to what it is. Another 20 percent is "dark matter," i.e., matter that we have no clue about. Only 4 percent of the universe is actually made up of matter we understand. In other words, after Newton, Einstein, Heisenberg, and two thousand years of collective exploration of the universe and all its elements, we've basically failed. In fact, the more knowledge we get, the more we realize how badly we are failing. We used to think we had it down. But now even the Big Bang theory is in serious question. We just suck at understanding the world around us."
SURVIVING FAILURE 
"How do you get past this?" Diversification is everything. You get past "this" by having lots of "that"s."
"Three funds I tried to start and couldn't get off the ground. I tried to get someone to buy $1 billion worth of FB stock (before it went public) and failed I tried to get someone to sell $300,000 worth of Twitter stock and failed" 
TAKE OVER THE WORLD 
"Next circle: what your center circle can turn into. A blog can turn into a book, or a show, or a consulting service, or a novel, or who knows? Keep thinking of it. A janitor can rise up to be CEO of a company. Make your brain sweat. A doctor's job can turn into a business, a book, advice, a class, a mission. A secretary can turn into a boss, a company. What does your center circle evolve into if you stick with it over time?"
Book Review (Personal Opinion):
This is a really weird book. But hey, it's James Altucher and if you read any of his blog posts, this is pretty much what you would expect from him. The book has some great examples and some great chapters like "The seven of highly effective mediocre people," but overall I felt pretty disappointed with the book. I have no idea what James wanted to do with the book and it felt more like a collection of blog posts than it was a book. Take some great lessons from the book, but don't go expecting a cohesive narrative.
Rating: 6/10
This Book Is For (Recommend):
A well-off person in the mid of their career who thinks that they're not doing good in life
A millennial thinking that they need to have it all by the time they're 27
A young professional who needs to learn that the path to success leads through a plethora of failures
If You Want To Learn More
Here's James Altucher holding a speech on Choose Yourself!
TEDx SanDiego
How I've Implemented The Ideas From The Book
There's a chapter that talks about honesty as a "success path." Altucher talks about how dishonesty works… until it no longer does. Because with dishonesty in business, you only really have one chance and once you ruin that, it's over for. Honesty works way better because… it always works. Sometimes, it can appear to be slower, but eventually, it gets you there (and you sleep much better at night).
That's why I'm taking an honest approach at Growthabit and really telling you what I think about the books I read. Maybe that isn't always smart, but it's honest.
One Small Actionable Step You Can Do
Fail at something today. Because life is about picking yourself up after failures.