Awaken the Giant Within is a book, or life guide written by Anthony Robbins, a professional coach and motivational speaker. The purpose of this book isn't 'only' to help you become the best version of yourself, but to lead you in getting to know yourself better. 
Book Title: Awaken the Giant Within: How to Take Immediate Control of Your Mental, Emotional, Physical, and Financial Destiny!
Author: Anthony Robbins
Date of Reading: Sep 2023
Rating: 9/10
What Is Being Said In Detail:
This book is a mixture of autobiography, experiences from successful people, and human nature research.
The greatest thing about that mixture is that provides not only 'recipes' for success, and some stories from strangers to you, but it helps you to understand and link each of them with yourself, in your specific situation, no matter in which position you currently are.
It will teach you to listen to yourself, your body, your mind, and your emotions. You will learn how to control them and use the best they can give you.
The book is split into four parts and twenty-six chapters. The first part is just the introduction, talking about the purpose and the flow of the book.
The second one talks about the Master system, teaching you in-depth how to look at your brain, and how to recognize your needs. The third part covers the seven-day challenges that summarize all the tips from the previous part, and the last one is the conclusion with a message that will awaken the best part of every human – his soul.
PART I
Chapter One: DREAMS OF DESTINY"
Chapter 1, as an opening chapter, brings the authors' telling about the book and its purpose. By explaining the guide you will follow to take a maximum from your life, the author provides three main points you need to start with:
Raise your standards

Change Your Limiting Beliefs

Change Your Strategy
The second thing from this chapter is five areas of our lives that need to be mastered and deeply understood by us to make anything more from our lives: emotional, physical, relationships, financial, and time mastery.
Chapter Two: "DECISIONS: THE PATHWAY TO POWER"
Chapter 2 discusses the importance of making decisions and making them a lot. It simply describes keys you should stick to learn to make your decisions. They are:
Remember the true power of making decisions.

Realize that the hardest step in achieving anything is making a true commitment—a true




decision.

Make decisions often.

Learn from your decisions.

Stay committed to your decisions, but stay flexible in your approach.

Enjoy making decisions.
The author explains the difference between a decision and a pure wish. We think there is nothing hard to make decisions, and we believe that decisions change nothing.
The fact is – decisions are followed by actions. It's your decisions, and not your conditions, that determine your destiny. It is all in your hands to shape it and stick to your decisions.
Chapter Three: "THE FORCE THAT SHAPES YOUR LIFE"
Chapter 3 explains how our brain works. Every action we take is the consequence of two forces: either we do that to avoid pain or to gain pleasure.
The moment we understood this relatively simple theory – the second thing this chapter brings to us is some good news. When we meet ourselves (body, mind, emotion), we can learn how to link these two forces to whatever we want.
For example, we probably eat fast food because we feel pleasure eating it while connecting vegetables and healthier food to the pain, so it becomes unsustainable to eat healthier.
That is the most common reason diets don't work on the long ride. Because of that, we should understand our feelings about the food and then link the pleasure to eating healthier food, and the pain to fast food and snacks that can cause a lot of medical problems.
And you will agree, this is the natural thinking every health-aware person should have about their life.
Chapter Four: "BELIEF SYSTEMS: THE POWER TO CREATE AND THE POWER TO DESTROY"
Chapter 4, continues the story about shaping our lives. The author proves that the common aspect people look into their lives and destiny is judging the environment as a main factor of success and failure in a person's life. But the truth is that the same environment can affect two persons completely differently.
Two brothers growing up in a toxic family with domestic violence can become the same as their father, or the radical opposite. How? Because it is not about the environment they are growing up in that shapes their life, but their beliefs about that environment and its impact on their lives.
If we believe drugs will destroy us – we would never take it. And vice versa, if we believe it would help us and make us feel better, we would consume it.
But someone can change their beliefs about drugs. Yes, and that is the last thing this chapter covers, three types of beliefs:
opinion (something that can change easily as we think, or discuss them),
belief (something we are strong with that we are doing or think right, and that impact our lives and daily decisions, but we still leave the place to discuss it and possibly let someone change our mind),
and conviction (simply, is something we are passionate about, and it's hard to leave and change that part of our mind that works by the impact of that; we feel pain just discussing it if someone doesn't share the opinion with us).
Chapter Five: "CAN CHANGE HAPPEN IN AN INSTANT?"
Chapter 5 is just an introductory chapter for the next few ones. It gives a brief picture of how our brain works and what stands behind the science of Neuro-Associative Conditioning, the author's program for making changes.
We will learn how our brain works, and why we are always stuck in that "every change needs some time". It does not. There is always one crucial moment we decide to make that change, but all that famous time is an unnecessary preparation time our brain never needs.
There are three specific beliefs about the responsibility that a person must have if they're going to create long-term change:
Something

must

change,

I

must change it,

I

can

change it;
Chapter Six: "HOW TO CHANGE ANYTHING IN YOUR LIFE: THE SCIENCE OF NEURO-ASSOCIATIVE CONDITIONING"
Chapter 6 deeply describes the story from the previous chapter. This is the six-step guide that will ensure a successful change of your habits. Here are the steps:
Decide What You Really Want and What's Preventing You From Having It Now.

Get Leverage: Associate Massive Pain to Not Changing Now and Massive Pleasure to the Experience of Changing Now!

Interrupt the Limiting Pattern.

Create a New, Empowering Alternative.

Condition the New Pattern Until It's Consistent.

Test It!
As you can see from those steps, first, find out what you want, why, and what will happen if you don't get it.
Next, you need to do something from previous chapters – link the massive pain with that condition you want to get rid of and make a pleasure doing the new one you just found as an alternative.
This is the crucial step because, to be honest – how often we try to quit some bad habit – try it, and then after some time, fail.
Probably, the reason why that change wasn't sustainable is because we didn't find an alternative for that habit.
Try to do something new, or anything old you have a pleasure working on every time you want to get back on your old habit, to do it, with properly rewarding yourself, until it becomes your new habit, and most importantly – your new pleasure.
To make sure you succeed, test your behavior. Imagine the situation, and test your feelings and needs in the moment.
Chapter Seven: "HOW TO GET WHAT YOU REALLY WANT"
Chapter 7 will show you how well you know yourself. Everyone wants to change their life but often doesn't know how they want it to look. To answer this question, get to know yourself.
You need to know your mind to control it. We think it is a cliche when someone says: "Stay positive, be positive!" but be honest, that is the truth and the point of life – to be happy and positive, focusing on your goals, happy moments, enjoyment, and pleasure, not pain or failures.
The problem is we often don't know how to focus on positive things because we don't know ourselves and don't know what makes us happy and what positive thoughts mean to us.
We are all different, and there is no unique formula – something that I consider positive thoughts can cause you a worse state and more depression and vice versa.
You need to ensure yourself a list of things that make you happy, can cheer you up, change your mood, and train your brain to use them as routine actions.
But, to make sure it works – find out something called submodalities. There are three of them: visual, auditory, and kinesthetic.
Every person provides a clear situation of something they are thinking of at the moment by using some phases like – seeing the bigger picture, feeling the pain, and hearing it clearly and loudly… Do the test this chapter provides you to find which submodality fits you the best.
Chapter Eight: "QUESTIONS ARE THE ANSWER"
Chapter 8, as the caption says, discusses questions and their power. A funny thing about questions is that we use them daily while speaking to others or thinking, but we rarely think about the question itself.
Every time we evaluate something, we do this through a bunch of questions that we think about, not asking ourselves and giving answers until we conclude. Then, considering that we think about something every second of our life, we don't even know that we evaluate a thousand things in the day.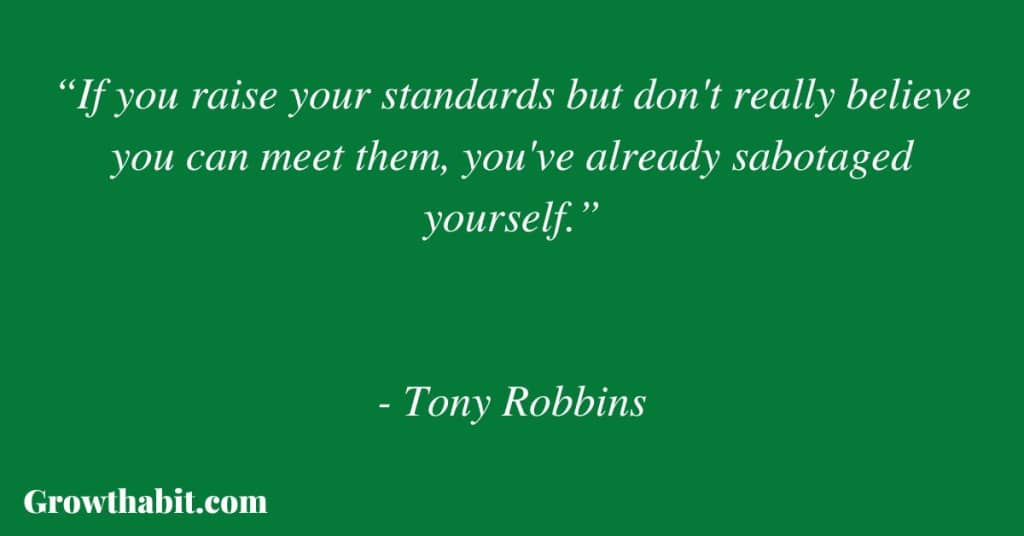 By reading this chapter, you will see that every evolution and every situation in our life, good or bad, can be concluded and used in two different ways just by asking questions.
Try searching Google with something like this: Is the COVID vaccine safe? See the results, and then search for this: Is the COVID vaccine harmful? Both times, you will get mostly the same results as your question.
The same thing happens in our mind: if you wake up and ask yourself right, positive questions every morning, you are forcing your brain to think positively and find the answers.
By doing this all the time, in every situation, you are programming your mind to think positively and make the best of every situation, which is our goal here.
Chapter Nine: "THE VOCABULARY OF ULTIMATE SUCCESS"
Chapter 9 mentions the importance of choosing proper words for the specific situation. It is an interesting situation, most languages have a dictionary of thousands and thousands of words, but we use just like 1% of them in our daily speech.
This chapter explains something called Transformational Vocabulary technology. It is the technology that can help us transform our emotional pattern – emotions we used to feel in a specific situation.
If we have a habit of saying that we are angry in every situation that disturbs our nerves – it is logical to feel that anger as we pronounce the word.
But if we awaken the emotion of being just a little bit pissed, annoyed, or something like that, using that word we break our hard negative emotions, and either calm ourselves down or bring a laugh in this situation – because we use some new, weird and fun words for us that sound unfamiliar.
This is a powerful tool that, once you get it, can help you in a lot of situations, and also help others, if you just ask them how they feel – using different words from the one they used.
Chapter Ten: "DESTROY THE BLOCKS, BREAK DOWN THE WALL, LET GO OF THE ROPE, AND DANCE YOUR WAY TO SUCCESS: THE POWER OF LIFE METAPHORS"
Chapter 10, as in the previous chapter, talks about words and their impact on our life and emotional system, but this time going one step deeper, we are going to mention metaphors. Thinking about them just for one minute, you can conclude we use them daily.
Whenever you want to describe something new and unfamiliar to someone, you use metaphor to connect it with something well-known to the person. It can be a useful tool, but it can also be very limiting.
It's okay to use metaphors, especially if it helps us to understand a situation or emotions, but the problem becomes if we use global metaphors in an inappropriate way. Global metaphors are related to our vision of life, job, religion, family, and everything you can imagine as a global and big part of someone's life.
Just think about the metaphors you use daily. Is it harmless to think that life is competition, and bring yourself some extra stress in it, when you can watch life as a game, dance, challenge, or gift? It's a huge difference, isn't it?
Chapter Eleven: "THE TEN EMOTIONS OF POWER"
Chapter 11 talks about emotions, providing a deep explanation of them. Before listing ten emotions that can give you the power to use them as a feature, not serving them as most people do, the author explains four basic ways in which people deal with emotion.
It would be avoidance, denial, competition, or learning and using your emotions. Sure, we are striving for the last one, and to help do that, here are six steps to emotional mastery:
Identify What You're Really Feeling

Acknowledge and Appreciate Your Emotions, Knowing They Support You

Get Curious about the Message This Emotion Is Offering You

Get Confident

Get Certain You Can Handle This Not Only Today But in the Future as Well

Get Excited, and Take Action
This chapter also covers the term Action Signals – basically another name for "negative emotions". The name itself explains the point of view on emotions like frustration, fear, hurt, anger… They are signals to think about them deeper and do or redirect your actions.
Chapter Twelve: "THE MAGNIFICENT OBSESSION – CREATING A COMPELLING FUTURE"
Chapter 12 teaches you how to set your goals, making them the biggest motivation for your daily runs, little success, and inspiration. Here are four categories you should split your goals up:
1) Personal development goals,
2) Career/business/economic goals,
3) Toys/adventure goals, and
4) Contribution goals.
After you know this, you should make four lists of every possible goal you have in your head – without limiting yourself to whether you can achieve that or not. Don't be afraid to have a big goal, because the only limit you have is in your mind, break that limit, and you can achieve whatever you want.
Chapter Thirteen: "THE TEN-DAY MENTAL CHALLENGE"
Chapter 13 finalizes the first part of the book by providing a mental challenge. This is a short chapter that explains the challenge you can try if you want to break your old pattern of negative thoughts, and endless thinking about the problem. Instead, start looking at them as the challenge.
The goal is to teach your mind to look at the possible problems as long as you need to be aware of them, and then naturally refocus your mind to think about the solution.
PART II – TAKING CONTROL: THE MASTER SYSTEM
Chapter Fourteen: "ULTIMATE INFLUENCE: YOUR MASTER SYSTEM"
Chapter 14 begins the story about our master system – which are components responsible for the evaluation we do in our life. This chapter mentions five of them:
Mental and emotional state

Questions we ask

Hierarchy of values

Beliefs

Reference experiences
This is the system we use every time we evaluate anything in life, small or big stuff.
This is proof we are all different – we can have the same beliefs as someone, maybe previous experiences about certain things as well, but if we choose to ask different questions, or we put ourselves in different mental and emotional states, we won't act similarly as the person we often think is the same as.
Chapter Fifteen: "LIFE VALUES: YOUR PERSONAL COMPASS"
Chapter 15 brings a deeper view of the third point from your Master System – values. As we already mentioned above, our behavior can be different in the order of values we prioritize in life. That is the natural flow, but the problem begins when the person is not aware of his values.
A lot of pain comes into your life when you don't know which thing you value more than others. You can easily come to a situation where you don't know what to choose because both of the chances are important to you. To assume you know you are doing the right thing, take two steps:
Gain awareness of what your current values are so you understand why you do what you do; make sure to get to know both – what you are moving toward, and what are you moving away from.

You can then make conscious decisions about what values you want to live by in order to

shape the quality of life

and destiny you truly desire and deserve.
Chapter Sixteen: "RULES: IF YOU'RE NOT HAPPY, HERE'S WHY!"
Chapter 16 has one simple goal: give the sense of the story from the previous chapter – values. They are just nouns if you don't give them some meaning. It may seem obvious but think twice before judging.
Nobody has the same definition of happiness. Simply, people define things, especially emotions, the way they feel them. You and I can both have happiness and satisfaction on the top of our values list and make it hard to live by it, but still, you can be a lot happier than me.
Why? Because you make a rule about your happiness, you decide to find simple things that will bring happiness into your life, while I disempower myself setting my rules almost impossible to follow.
Here is the simple question and answer we need to focus on when we talk about or beliefs and rules we put in our lives for very important things. How do we know if a rule empowers or disempowers us? There are three primary criteria:
It's a disempowering rule if it's impossible to meet.

A rule is disempowering if something that you can't control determines whether your rule has been met or not.

A rule is disempowering if it gives you only a few ways to feel good and lots of ways to feel bad.
Make sure to be kind to yourself, make your rules possible to reach and follow, in order to link pleasure to your values, feel them often, and give yourself a lot more motivation with those feelings every single day.
Chapter Seventeen: "REFERENCES: THE FABRIC OF LIFE"
Chapter 17 is another chapter that explains the Master System. Now is the time to focus on the real resource we use when acting in our life – references.
Mostly, when we are dealing with something for the first time, we act strange, and if we don't have any prior knowledge, we let the feeling lead us.
Have you ever asked yourself, where this feeling came from? I think you know the answer now – from references. Our mind is great at connecting things and experiences. He is doing it constantly, and often we don't notice that at all.
What we can do to improve this component of the Master System, is aware of our references, making sure every experience we have in life, no matter how bad it seems, is linked with something good for us, and for the world.
Also, find out other resources. You are not limited to learning and act upon only your experience; watch, learn, read, and investigate others. The richer you become, the bigger the chance to act positively in almost every situation.
Chapter Eighteen: "IDENTITY: THE KEY TO EXPANSION"
Chapter 18 is a summary of this part of the book. It concludes the story about Master System, with another important step – finding yourself.
You must know your identity to do anything in your life. You need to know how you want others to watch you. Because, if you don't know, they will watch you however they want.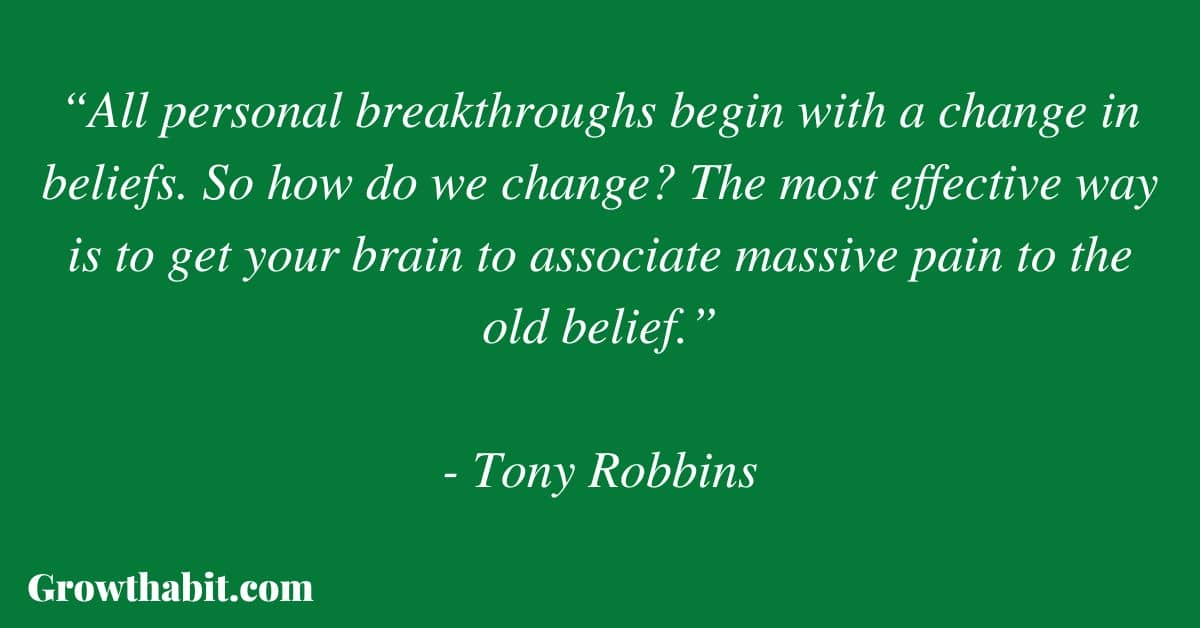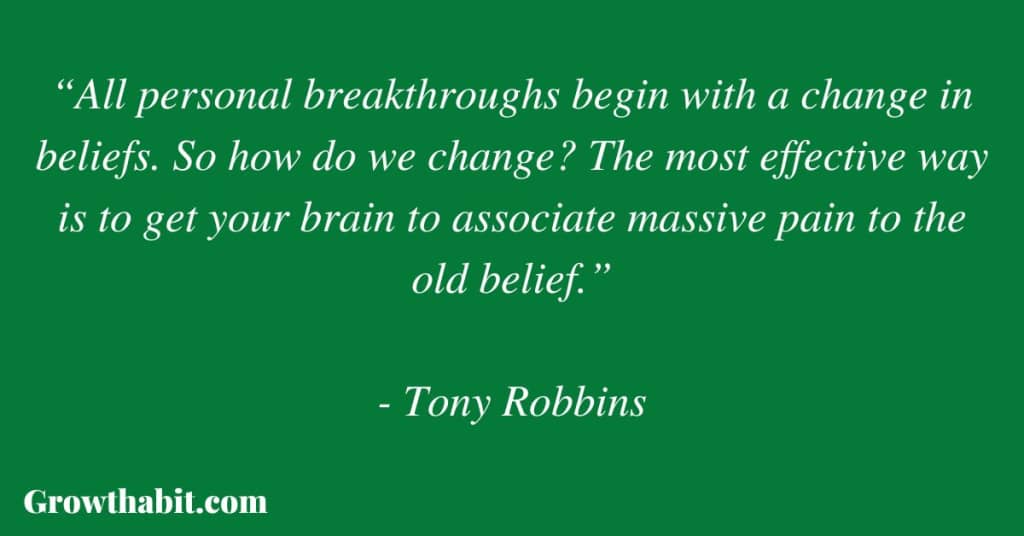 The bigger problem is when you decide to watch yourself like they are. Identifying your core values, and beliefs in life, with just a few minutes of thinking about yourself, your important things, people, passion, and actions in life can save you from being an unknown person with no difference being alive or dead.
PART III – THE SEVEN DAYS TO SHAPE YOUR LIFE
Chapter Nineteen: "EMOTIONAL DESTINY: THE ONLY TRUE SUCCESS – DAY ONE"
Chapter 19 is the first of a seven-part challenge the third part of the book will cover. It brings simple, but not that easy-to-do exercise, about being aware of your emotions, breaking old patterns, and putting yourself in a constant state of empowering emotions.
Chapter Twenty: "PHYSICAL DESTINY: PRISON OF PAIN OR PALACE OF PLEASURE – DAY TWO"
Chapter 20 is the second challenge you are going to take on your way to change your life, shape yourself to become the best version of yourself. This is an essential part of our lives, but most people are struggling with it. It is our physical health, condition, and vitality.
This chapter will explain the basic concepts and terms we probably misunderstood all the time. After making sure you caught it all, the author provides you with one life-changing story about our body and the way we exercise.
It is about aerobic and anaerobic exercise. Most of us think about physical exercises through the paroll no pain, no gain. It is just half of the truth – there is mental pain you need to feel to train your metabolism and transform physical pain into pleasure.
Chapter Twenty-One: "RELATIONSHIP DESTINY: THE PLACE TO SHARE AND CARE – DAY THREE"
Chapter 21 continues shaping your life path, now with the most important part of your life, probably the one that gives it a sense – relationship. Here are mentioned the "four Rs" that can destroy and relationship:
Resistance

Resentment

Rejection

Repression.
To be aware of them, and don't let to put you in a state of resistance, you just need to follow simple steps from the previous chapters, and they are just summarized in this challenge. These are things like transformation vocabulary, breaking your emotional pattern, and so on.
Chapter Twenty-Two: "FINANCIAL DESTINY: SMALL STEPS TO A SMALL (OR LARGE) FORTUNE – DAY FOUR"
Chapter 22 is the fourth they of the challenge. It brings a tricky part of our lives, a part we often admit to look like an important one.
The financial destiny of your life is one of the most important, and you are not a materialist if you think like that. In fact, you are intelligent, because that is simply how the world works.
We often think wealth is luck, and you cannot impact it a lot. But the truth is on the other half. You can. It is not an environment that will shape your financial pattern in life, it is your understanding of how it works.
It sounds simple – learn something about your money, investment, and savings, and go on.
Here are a lot of books that can teach you that, but just don't forget one crucial thing: before doing anything about the money you have – make sure you are clear about your beliefs.
Knowing what you want, and how much it costs your money and your time is half of success. Then, find out every possible way you can earn, simply find out in every situation how can you be more valuable, because that is what are you paid for.
Chapter Twenty-Three: "BE IMPECCABLE: YOUR CODE OF CONDUCT"
Chapter 23 is a short chapter that once more emphasizes the importance of values you set earlier. Making sure to live your values isn't always an easy thing to do. Sometimes you can catch yourself following all rules in your life, but still don't feel happy and fulfilled.
To make sure you avoid the situation above and, once more take a look at your values. And after finding out that you cannot see the result of sticking to your value every single day, which is obvious, because if you set, for example, self-development, as one of them, you can't see the result that often.
So, the solution is to make your code of conduct, some little, but powerful things you check to do daily, and to feel fulfilled with your life.
Chapter Twenty-Four: "MASTER YOUR TIME AND YOUR LIFE – DAY SIX"
Chapter 24 has three tips for your time master, the biggest evil or ally of every proactivist, you choose.
the ability to distort time

a matter of importance

save yourself years
These tips orient your focus, be aware of the time, and avoid the guilt at the end of the day when you see something you think you can do for one hour, took three from you.
Next, it orients you to put your focus on the importance of something, even before the urgency, because that is the only way to feel fulfilled and empowered with your invested time.
And last, but not least, watch, scan, and learn from others, don't wait just to feel your own experience – you won't live for a thousand years on this planet!
Chapter Twenty-Five: "REST AND PLAY: EVEN GOD TOOK ONE DAY OFF! DAY SEVEN"
Chapter 25 is the end of a seven-day challenge that shapes your life and has just one thing to tell you: take a rest, do something fun, and feed your soul.
PART IV – A LESSON IN DESTINY
Chapter Twenty-Six: "THE ULTIMATE CHALLENGE: WHAT ONE PERSON CAN DO"
Chapter 26 is a closing chapter with a life-message and emotional speech by the author that will force you to think about your goals in life, your values, and your purpose on this planet.
Make sure to read it carefully, to understand the message the author tried to send us, and become the person you truly can, and want to become.
Most of us have our heroes, and role models, and we usually think they are perfect, at least in their field of interest. But they are far from that, human being is far from that.
We are humans, and we are here to be human, kind, and helpful, to God, ourselves, our close ones, and society. You can become a hero to someone someday, and you don't have to be born for that. Just decide.
Most Important Keywords, Sentences, Quotes:
PART I
CHAPTER ONE: "DREAMS OF DESTINY"
"Could this be real? Am I the same guy who eight years ago was struggling, frustrated, feeling alone and incapable of making my life work? Fat, broke, and wondering if I could even survive? How could a young kid like me with nothing but a high school education have created such dramatic changes?"
"Any time you sincerely want to make a change, the first thing you must do is to raise your standards. When people ask me what really changed my life eight years ago, I tell them that absolutely the most important thing was changing what I demanded of myself.
I wrote down all the things I would no longer accept in my life, all the things I would no longer tolerate, and all the things that I aspired to becoming."
"If you raise your standards but don't really believe you can meet them, you've already sabotaged yourself."
CHAPTER TWO: "DECISIONS: THE PATHWAY TO POWER"
"Everything that happens in your life—both what you're thrilled with and what you're challenged by— began with a decision. I believe that it's in your moments of decision that your destiny is shaped.
The decisions that you're making right now, every day, will shape how you feel today as well as who you're going to become in the nineties and beyond."
"Making a true decision means committing to achieving a result, and then cutting yourself off from any other possibility."
"The three decisions that control your destiny are:
Your decisions about what to focus on.

Your decisions about what things mean to you.

Your decisions about what to do to create the results you desire."
CHAPTER THREE: "THE FORCE THAT SHAPES YOUR LIFE"
"One thing is clear to me: human beings are not random creatures; everything we do, we do for a reason. We may not be aware of the reason consciously, but there is undoubtedly a single driving force behind all human behavior.
This force impacts every facet of our lives, from our relationships and finances to our bodies and brains. What is this force that is controlling you even now and will continue to do so for the rest of your life? PAIN and PLEASURE! Everything you and I do, we do either out of our need to avoid pain or our desire to gain pleasure."
"The truth is that we can learn to condition our minds, bodies, and emotions to link pain or pleasure to whatever we choose. By changing what we link pain and pleasure to, we will instantly change our behaviors."
CHAPTER FOUR: "BELIEF SYSTEMS: THE POWER TO CREATE AND THE POWER TO DESTROY"
"So often we're seduced into believing that events control our lives and that our environment has shaped who we are today. No greater lie was ever told. It's not the events of our lives that shape us, but our beliefs as to what those events mean."
"Most people who constantly say, "Let's be realistic," are really just living in fear, deathly afraid of being disappointed again. Out of that fear, they develop beliefs that cause them to hesitate, to not give their all—consequently they get limited results. Great leaders are rarely "realistic.""
"All personal breakthroughs begin with a change in beliefs. So how do we change? The most effective way is to get your brain to associate massive pain to the old belief."
CHAPTER FIVE: "CAN CHANGE HAPPEN IN AN INSTANT?"
"Why is it that most people think change takes so long? One reason, obviously, is that most people have tried again and again through willpower to make changes, and failed.
The assumption that they then make is that important changes must take a long time and be very difficult to make. In reality, it's only difficult because most of us don't know how to change! We don't have an effective strategy. Willpower by itself is not enough—not if we want to achieve lasting change."
CHAPTER SIX: "HOW TO CHANGE ANYTHING IN YOUR LIFE: THE SCIENCE OF NEURO-ASSOCIATIVE CONDITIONING"
"We have mixed emotions where we link both pain and pleasure to changing, which causes our brain to be uncertain as to what to do, and keeps us from utilizing our full resources to make the kinds of changes that can happen literally in a moment if every ounce of our being were committed to them.
How do we turn this around? One of the things that turns virtually anyone around is reaching a pain threshold.
This means experiencing pain at such an intense level that you know you must change now—a point at which your brain says, "I've had it; I can't spend another day, not another moment, living or feeling this way.""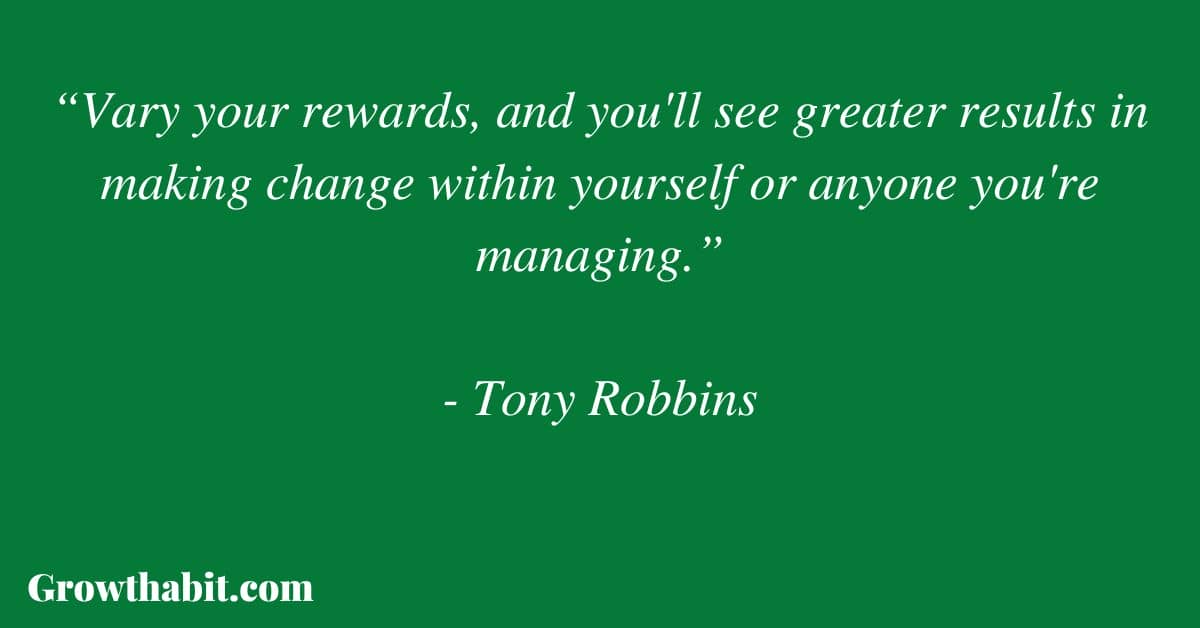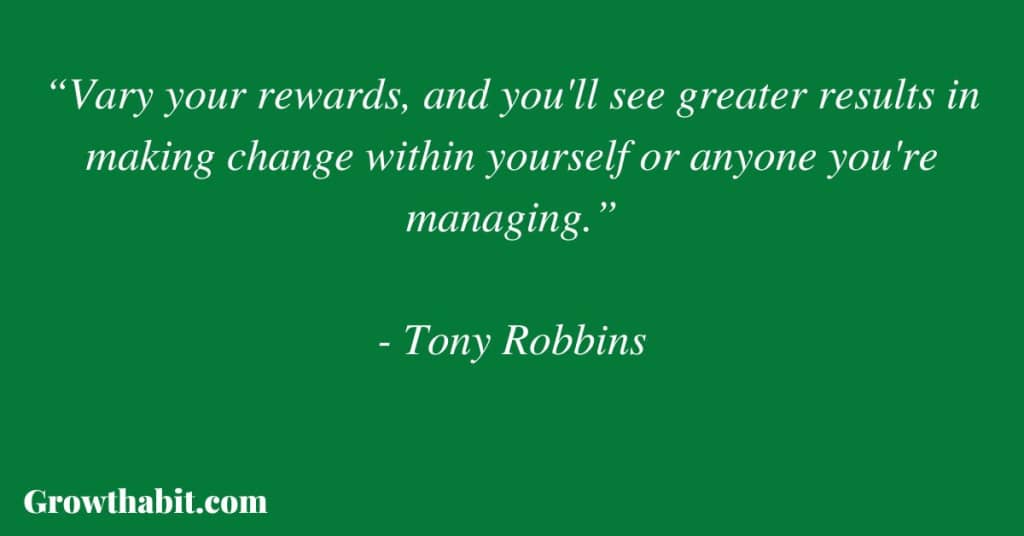 "I've found that 20 percent of any change is knowing how; but 80 percent is knowing why. If we gather a set of strong enough reasons to change, we can change in a minute something we've failed to change for years."
"Vary your rewards, and you'll see greater results in making change within yourself or anyone you're managing."
CHAPTER SEVEN: "HOW TO GET WHAT YOU REALLY WANT"
"…they were all sold a bill of goods that said, "Someday, someone, somehow, something . . . and then I'll be happy." But when they achieved success, when they arrived on Easy Street and got a firsthand look at the American Dream, they found that happiness still eluded them.
So they continued to chase it, keeping the pain of existence at bay by drinking, smoking, overeating, until finally they got the oblivion they craved. They never discovered the true source of happiness."
"You've got to realize that you must take conscious control of running your own mind. You've got to do it deliberately; otherwise, you're going to be at the mercy of whatever happens around you.
The first skill you must master is to be able to change your state instantly no matter what the environment, no matter how scared or frustrated you are."
CHAPTER EIGHT: "QUESTIONS ARE THE ANSWER"
"These questions are what created the difference in destinies: "Why me?" rarely produces a positive result, while "How can I use this?" usually leads us in the direction of turning our difficulties into a driving force to make ourselves and the world better."
"One of the things that is great about Leo is his continued persistence in asking himself a question that his father instilled in him from the time he was a little boy. Each day at the dinner table, his father would ask, "Leo, what have you learned today?"
Leo had to have an answer, and a quality one. If he hadn't learned something really interesting in school that day, he would run and get the encyclopedia to study something that he could share. He says that to this day he won't go to bed until he's learned something new that's of value.
As a result, he's constantly stimulating his mind, and a great deal of his passion and love for learning has come from this question, asked repeatedly, begun decades ago."
CHAPTER NINE: "THE VOCABULARY OF ULTIMATE SUCCESS"
"For example, if you develop a habit of saying you "hate" things—you "hate" your hair; you "hate" your job; you "hate" having to do something—do you think this raises the intensity of your negative emotional states more than if you were to use a phrase like "I prefer something else"?"
"Since words are our primary tool for interpretation or translation, the way we label our experience immediately changes the sensations produced in our nervous systems. You and I must realize that words do indeed create a biochemical effect."
"Hmmm. Is it possible that we don't experience certain emotions because we don't have a word to represent them?"
CHAPTER TEN: "DESTROY THE BLOCKS, BREAK DOWN THE WALL, LET GO OF THE ROPE, AND DANCE YOUR WAY TO SUCCESS: THE POWER OF LIFE METAPHORS"
"Throughout human history, symbols have been employed to trigger emotional response and shape men's behavior. Many things serve as symbols: images, sounds, objects, actions, and, of course, words. If words are symbolic, then metaphors are heightened symbols."
"Often people talk about how they feel "stuck" in a situation. You're never stuck! You may be a little frustrated, you may not have clear answers, but you're not stuck.
The minute you represent the situation to yourself as being stuck, though, that's exactly how you'll feel. We must be very careful about the metaphors we allow ourselves to use."
CHAPTER ELEVEN: "THE TEN EMOTIONS OF POWER"
"The only way to effectively use your emotions is to understand that they all serve you. You must learn from your emotions and use them to create the results you want for a greater quality of life. The emotions you once thought of as negative are merely a call to action.
In fact, instead of calling them negative emotions, from now on in this chapter, let's call them Action Signals. Once you're familiar with each signal and its message, your emotions become not your enemy but your ally.
They become your friend, your mentor, your coach; they guide you through life's most soaring highs and its most demoralizing lows. Learning to use these signals frees you from your fears and allows you to experience all the richness of which we humans are capable."
"What's the lesson? You don't have to wait for anything or anyone! You don't need any special reason to feel good—you can just decide to feel good right now, simply because you're alive, simply because you want to."
CHAPTER TWELVE: "THE MAGNIFICENT OBSESSION – CREATING A COMPELLING FUTURE"
"When we first set large goals, they may seem impossible to achieve. But the most important key to goal setting is to find a goal big enough to inspire you, something that will cause you to unleash your power.
The way I usually know I've set the right goal is when it seems impossible but at the same time it's giving me a sense of crazed excitement just to think about the possibility of achieving it.
In order to truly find that inspiration and achieve those impossible goals, we must suspend our belief systems about what we're capable of achieving."
"There is a difference between being stressed out and being the master of stress. Use stress (eustress) to drive you in the direction you desire; it can generate tremendous transformation within you.
By learning to utilize pressure and make it your friend instead of your foe, you can truly hone it into a tool that assists you in living life to the fullest. Besides, we need to remember that our stress level is self induced. So let's induce it intelligently."
CHAPTER THIRTEEN: "THE TEN-DAY MENTAL CHALLENGE"
"Remember, our goal is not to ignore the problems of life, but to put ourselves in better mental and emotional states where we can not only come up with solutions, but act upon them.
Those people who focus on what they can't control are continually disempowered. Yes, it's true, we can't control the wind or the rain or the other vagaries of weather, but we can tack our sails in a way that allows us to shape the direction of our lives."
PART II – TAKING CONTROL: THE MASTER SYSTEM
CHAPTER FOURTEEN: "ULTIMATE INFLUENCE: YOUR MASTER SYSTEM"
"There are two types of values you'll learn about in the next chapter: the emotional states of pleasure we're always trying to move toward—values like love, joy, compassion, and excitement—and the emotional states of pain that we're trying to avoid or move away from—like humiliation, frustration, depression, and anger.
The dynamic created by these two targets will determine the direction of your life."
CHAPTER FIFTEEN: "LIFE VALUES: YOUR PERSONAL COMPASS"
"Anytime you have difficulty making an important decision, you can be sure that it's the result of being unclear about your values."
"Ask yourself a new question: "What do my values need to be in order to achieve the destiny I desire and deserve?" Brainstorm out a list. Put them in order. See which values you might get rid of and which values you might add in order to create the quality of life you truly want."
CHAPTER SIXTEEN: "RULES: IF YOU'RE NOT HAPPY, HERE'S WHY!"
"You can decide to make happiness a priority, but if your rule for happiness is that everything must go just as you planned, I guarantee you're not going to experience this value on a consistent basis.
Life is a variable event, so our rules must be organized in ways that allow us to adapt, grow, and enjoy. It's critical for us to understand these unconscious beliefs that control when we give ourselves pain and when we give ourselves pleasure."
"Life will give you enough pain on your own if you don't follow through. You don't need to add to it by creating an intense set of rules that makes you feel lousy all the time."
CHAPTER SEVENTEEN: "REFERENCES: THE FABRIC OF LIFE"
"Some people have been raped, sexually abused, abandoned. Some have come from broken or impoverished homes.
Yet some people interpret these experiences in a way that helps them form the belief that their life is not worth living, and others use it to motivate themselves to study, to expand, to grow, to share, to be more sensitive."
CHAPTER EIGHTEEN: "IDENTITY: THE KEY TO EXPANSION"
"What exactly is identity? It is simply the beliefs that we use to define our own individuality, what makes us unique—good, bad, or indifferent—from other individuals. And our sense of certainty about who we are creates the boundaries and limits within which we live."
"Get yourself to do those things you don't think you can do, and use your new actions as a reference that gives you a sense of certainty that you're more than you thought."
PART III – THE SEVEN DAYS TO SHAPE YOUR LIFE
CHAPTER NINETEEN: "EMOTIONAL DESTINY: THE ONLY TRUE SUCCESS – DAY ONE"
"There is no true success without emotional success, yet, of the more than 3,000 emotions that we have words to describe, the average person experiences only about a dozen different ones in the course of an average week.
We must remember that this does not reflect our emotional capacity, but rather the limitations of our present patterns of focus and physiology."
CHAPTER TWENTY: "PHYSICAL DESTINY: PRISON OF PAIN OR PALACE OF PLEASURE – DAY TWO"
"So as you begin to develop your aerobic capacity, once you reach a plateau (somewhere in your second to fourth month of exercise), you can build power by adding anaerobic exercise to your regimen, such as by East repetitions with weights.
This differs from person to person, and the best test is to just listen to your body. If you're running on the beach, and suddenly feel like sprinting, do it!"
CHAPTER TWENTY-ONE: "RELATIONSHIP DESTINY: THE PLACE TO SHARE AND CARE – DAY THREE"
"Some of the biggest challenges in relationships come from the fact that most people enter a relationship in order to get something: they're trying to find someone who's going to make them feel good.
In reality, the only way a relationship will last is if you see your relationship as a place that you go to give, and not a place that you go to take."
CHAPTER TWENTY-TWO: "FINANCIAL DESTINY: SMALL STEPS TO A SMALL (OR LARGE) FORTUNE – DAY FOUR"
"True wealth is an emotion: it's a sense of absolute abundance. Our heritage alone makes us wealthy. We have the privilege of enjoying great works of art that we didn't paint, music we didn't compose, great educational institutions we didn't build.
Feel the wealth of the nation's parks that you own. Know that you're a wealthy person now, and enjoy that wealth. Realize that this is a part of your abundance, and this feeling of gratitude will allow you to create even more."
CHAPTER TWENTY-THREE: "BE IMPECCABLE: YOUR CODE OF CONDUCT"
"Wayne Dyer recently shared a great metaphor with me relating to how people blame the way they behave on the pressure they're feeling. He said, "Pressure doesn't create negative behavior.
Think of yourself as an orange. If an orange is squeezed, if all this pressure is being applied from the outside, what happens? Juice comes out, right? But the only thing that comes out when the pressure is applied is what's already inside the orange.""
CHAPTER TWENTY-FOUR: "MASTER YOUR TIME AND YOUR LIFE – DAY SIX"
"So often we forget that time is a mental construct, that it is completely relative, and that our experience of time is almost exclusively the result of our mental focus. How long is a long time, for example?
It all depends upon the situation, doesn't it? Standing in line for more than 10 minutes can seem like an eternity, while an hour of making love can pass all too quickly."
CHAPTER TWENTY-FIVE: "REST AND PLAY: EVEN GOD TOOK ONE DAY OFF! DAY SEVEN"
"The great man is he that does not lose his child's-heart. -MENCIUS"
PART IV – A LESSON IN DESTINY
CHAPTER TWENTY-SIX: "THE ULTIMATE CHALLENGE: WHAT ONE PERSON CAN DO"
"If we held the great heroes of our past to the same unbending criteria by which we judge our present-day heroes, we wouldn't have any heroes… A hero is not someone who is "perfect," because none of us is perfect.
We all make mistakes, but that doesn't invalidate the contributions we make in the course of our lives. Perfection is not heroism; humanity is."
"Most important, we must teach our children the consequences of their actions. We must make them aware of the impact they have on an individual or local level and, by extension, their collective impact on the global level.
Don't let them ever fall into the trap of thinking that their actions don't make a difference—if there's anything I've tried to convey in this book, it's that even small decisions and small actions, consistently made, have far-reaching consequences."
"However, make balance your watchword. Strive tor balance rather than perfection. Most people live in a black-and-white world where they think that they're either a volunteer with no life of their own, or just a materialistic, achievement-oriented person who doesn't care to make a difference. Don't fall into this trap.
Life is a balance between giving and receiving, between taking care of yourself and taking care of others. Yes, give some of your time, capital and energy to those who truly need it—but also be willing to give to yourself. And do so with joy, not with guilt.
You don't have to take the weight of the world on your shoulders. More people would contribute if they realized that they didn't have to give anything up to do so.
So do a little, and know that it can mean a lot. If everyone did this, fewer people would have to do so much, and more people would be helped!"
Book Review (Personal Opinion):
This book gave me the answers I had been searching for years. This is one of the rare books, and coaching methods I find, that puts human emotions and pleasure in the first place, which I consider the crucial thing to do to make any sustainable change and development.
Although I always wanted to be that person, a productive one who eats healthy, exercises, reads, and basically has life under control, there was a fear of failure and pain that life costs.
This book taught me that it the human nature, to be the person I am striving to become, but the problem lies in our familiarity with ourselves, and the basic cognitive behavior of people.
There are two reasons I didn't give a 10 rate to this book. First, I think there is a little more mixture of the stories and splitting them into different parts than is truly needed, so it can cause a feeling you are reading the same thing and getting the same point more than once.
The second one is that it leaves an impression that you can do most of the advice from this book only if you are already at some level of self-awareness and success.
Rating: 9/10
This Book Is For
average person who thinks can achieve more than currently does

successful person who lacks motivation or fulfillment

psychologist who wants to expand his knowledge and improve his programs
If You Want To Learn More
Since this is the book from a worldwide philanthropist and coach, here is the official website of the author: https://www.tonyrobbins.com/ where you can find all of his books, as well as seminars, guides, programs, and a bunch of other useful resources.
How I've Implemented The Ideas From The Book
I noted myself half of the book – that is how much advice and steps it contains. The only 'trick' is you need to do them chronologically because they are connected.
But besides those steps, you can find advice you can start implementing ASAP, and the one I decided to start with is about transformation vocabulary – trying to find the best word to describe your emotions, and not be too rude and negative, in order to break your pattern which cause you to feel bad.
I used to answer simple questions to my friends and colleagues like "How are you?" with "Fine, it goes somehow" and similar basic answers that are universal however I felt.
Now I am trying to answer with "Super! Excellent! It can't go better!" because it is mostly the true answer, but I didn't train myself to think like that.
One Small Actionable Step You Can Do
As I said, there is a lot of advice you can choose to implement in your life that is small, miserable, and has a big impact on our emotions and states.
But I want to talk about the very last one the author gives at the end of the book. Before you try hard to change your emotional patterns, regulate your sleep, eat, and time management…
Before you try to become the best person you can, stop for a minute, and try to avoid the feeling you need or you can become perfect.
Try to think, now and each next time, that you are a human being and you can be a hero to someone, just by doing some little things that someone may never give back to you through actions.
Try to be kind to the stranger on the street, try to volunteer, and give some advice to the homeless person, he will appreciate and remember it until the end of his life.
Before being anything, try to be human – that is the most powerful role model you can be to your kids or other kids and people on the earth.