Dr. Bessel van der Kolk's book, The Body Keeps the Score: Brain, Mind, and Body in the Healing of Trauma, makes use of the most recent discoveries in the field of science to demonstrate how trauma can literally reshape both the body and the brain, impairing the sufferer's capacity for pleasure, engagement, self-control, and trust. Dr. Bessel van der Kolk is widely recognized as one of the world's preeminent trauma experts due to his extensive, three-decade-long work with trauma survivors. He investigates new methods of healing that engage the brain's inherent neuroplasticity, including neurofeedback and meditation as well as sports, drama, and yoga.
Book Title— The Body Keeps the Score: Brain, Mind, and Body in the Healing of Trauma
Author—  Bessel van der Kolk
Date of Reading—  August 2022
Rating—   10/10
What Is Being Said In Detail
LESSONS FROM VIETNAM VETERANS
The author makes it clear in this first chapter that, based on his work with a wide range of patients, he does not believe that trauma can be remedied with pills alone. The author notes that most hearers experience horror when hearing about someone else's second-hand trauma. Because hearing about a slaying or rape is upsetting, many people would rather ignore the possibility of such atrocities occurring altogether, or at least believe that they occur only in remote areas of the world. It's understandable that survivors of such horrific acts would want to put them behind them. But a talking cure, in which they learn to talk about what they've been through, is rarely enough. A healthy response to trauma involves the body accepting the reality that the threat is no longer present.
REVOLUTIONS IN UNDERSTANDING MIND AND BRAIN
The author while working at the Massachusetts Mental Health Center between his first and second years of medical school.   He thought patients' hallucinations came from suppressed memories.  After becoming a psychiatrist, the author became interested in neuroscience to comprehend traumatic stress better.  The author later explored the possible connection between PTSD and serotonin. Once Prozac was available in 1988, he began prescribing it with effectiveness. Prozac helped many trauma patients, but not combat veterans. The author has never been able to explain this, but says it indicates pharmacology's limitations in treating trauma. The author worries that medications have become the default technique of addressing mental health concerns. He's interested in natural techniques to treat trauma.
LOOKING INTO THE BRAIN: THE NEUROSCIENCE REVOLUTION
In the 1990s, brain-imaging techniques were very popular. This new technology was used by the author to conduct an investigation of brain function during flashbacks. He found increased activity in the limbic area of the brain, especially the amygdala, which triggers stress. There was less activity in the parts of the brain that process speech. The author explains this by saying that trauma is hard to put into words and cuts the patient off from language.
Activity shifted from the logical, analytical left hemisphere to the creative, intuitive right hemisphere, as revealed by the MRI scans. The left hemisphere of the brain stores factual information, while the right hemisphere stores emotional recollections.   When the left side of the brain fails to function during trauma memory, it prevents the patient from viewing the action analytically as something that happened long ago.
RUNNING FOR YOUR LIFE: THE ANATOMY OF SURVIVAL
In chapter 4, the author states the ability to move and act in the face of a threat is crucial for preventing long-term trauma. Immobilized or trapped victims' brains repeat survival strategies long after the threat has passed. The right side of the brain (emotional) responds first to danger, but the left side can analyze the situation soon after. When the body is unable to respond, the delicate equilibrium between the right and left hemispheres of the brain is disturbed, and the analytical, logical left hemisphere is unable to function in a proper manner.
The author concludes the chapter by saying that dissociation is the essence of trauma. Flashbacks and memories of the traumatic event, accompanied by the stress hormones that marked the event itself, cut the patient off from the rest of the world. Trauma patients' brain scans show that they can't distinguish past from present. The author believes that desensitizing patients to the past isn't enough; they must learn to live in the present.
BODY-BRAIN CONNECTIONS
In Chapter 5, Charles Darwin's findings are examined, in which he discovered that humans and animals express the same emotions in the same way. Emotions are biologically based and serve the same purpose: to motivate self-preservation.
Darwin noted that strong emotions affect the body and brain.
All emotional signs are produced by the autonomic nervous system (ANS). In this case, the sympathetic nervous system (SNS) responds to sudden danger, while the parasympathetic nervous system (PNS) heals wounds and digests food.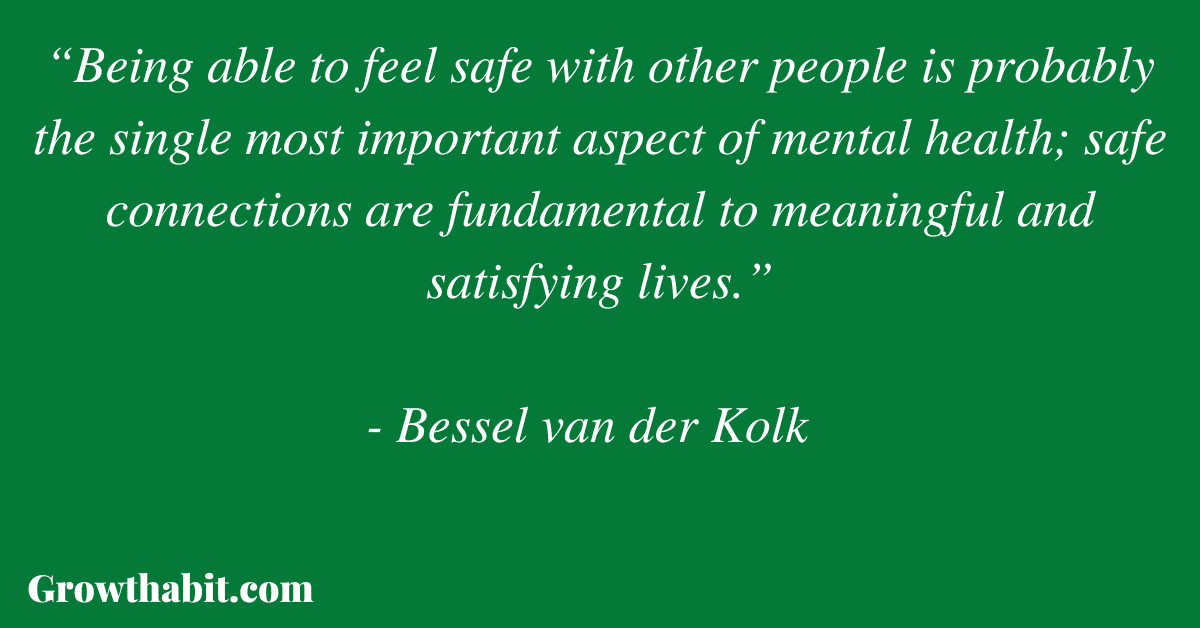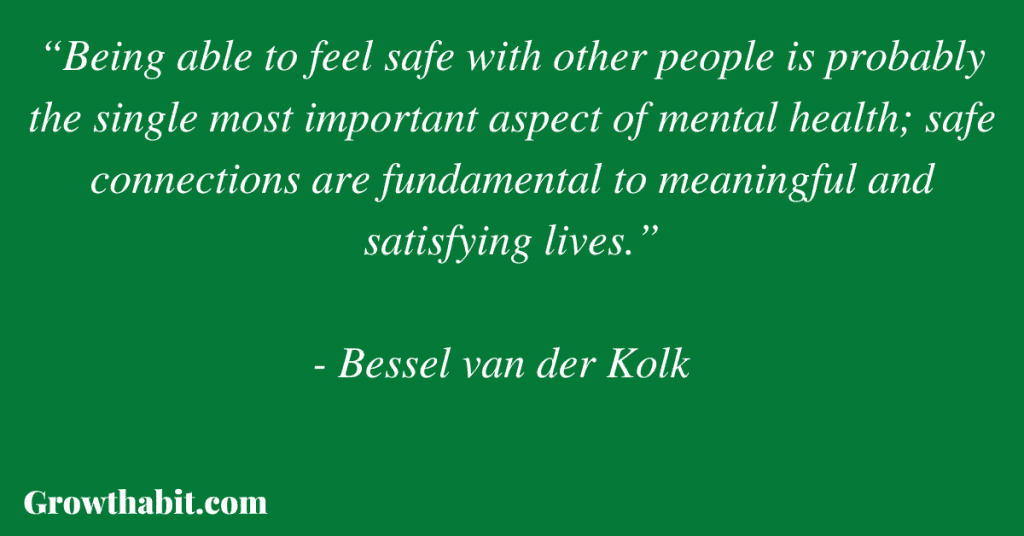 Stephen Porges developed Polyvagal theory based on Darwin's observations in 1994. The Polyvagal theory argues that social relationships are key to understanding and treating trauma. Mammals' complex social interactions led to the development of a system called the ventral vagal complex (VVC), which fosters feelings of empathy among members of the same species. In trauma victims, the VVC shuts down for survival, even though this survival response is no longer needed. According to the author, one of the most important aspects of trauma therapy is helping patients move out of survival mode and back into social interaction.
LOSING YOUR BODY, LOSING YOUR SELF
In chapter 6, the findings of some colleagues of van der Kolk Drs. Lanius are discussed. Drs. Lanius discovered trauma patients' self-sensing systems were severely damaged. They had lower self-awareness and self-recognition and felt "less alive." Another doctor called  Antonio Damasio found that negative memories change how the brain regulates bodily functions. The patient has trouble sleeping, no longer enjoys food, and is always anxious.
The author also says traumatized people experience depersonalization. As a result, their bodies are always tense and on guard, and they experience a disconnection from their own bodies. To help them re-connect with others and engage in society, they must first make this connection within themselves.
GETTING ON THE SAME WAVELENGTH: ATTACHMENT AND ATTUNEMENT
Chapter 7 explains child trauma's effects. Children learn to care for themselves by being cared for by their parents. John Bowlby describes attachment as a child's secure base. Babies become attuned to their mothers' movements and speech when they're cared for.
Children without secure parent bonds develop coping strategies, such as pretending not to care or crying and screaming constantly. Disorganized attachment is a pattern seen in children who have been abused or traumatized and whose caregivers are a source of further distress for the child. These children may become physically static, seek affection with strangers, or trust no one. As adults, these children continue to have emotional issues.
TRAPPED IN RELATIONSHIPS: THE COST OF ABUSE AND NEGLECT
In chapter 8, the author elaborates on her earlier points about the effects of trauma on children in their adult lives. Self-worth is formed in childhood. Children internalize the positive messages from their parents about how beautiful, special, and valued they are. Those who later have abusive partners react with anger and indignation, knowing they don't deserve it. However, those who have experienced trauma and abuse as children are more likely to internalize the belief that they deserve to be abused as adults. When people's feelings run so deep, telling them they shouldn't feel that way isn't going to help (despite the fact that this is what many therapists do).
WHAT'S LOVE GOT TO DO WITH IT?
Chapter 9 examines the complexity of trauma and its treatment. Many times, trauma patients will be given a variety of different diagnoses and medications by different doctors, all of which will be chosen based on whatever the individual physician considers to be the most important factor in the patient's case. These diagnoses won't be wrong, but they won't solve the problem. Mental illnesses and their patients are more complex than labels like "depression" or "PTSD," and psychiatric diagnoses can't match physical ones.
A psychiatric disorder diagnosis can have serious consequences, but it's often arbitrary. Even taking a patient's history is a difficult and variable process. The author notes that childhood traumas are often linked. Childhood trauma often causes obesity, drug abuse, and self-harm. Those who resort to self-harming behaviors like cutting or drug use are more likely to have experienced childhood abuse than those who deal with stress through healthy activities like sports or talking to friends.
DEVELOPMENTAL TRAUMA: THE HIDDEN EPIDEMIC
In Chapter 10, the effects of the United States's failure to provide adequate care for children and other trauma survivors are assessed.
Childhood abuse is the root cause of developmental trauma, which manifests in a person's inability to form healthy relationships at any point during their life. Without strong attachments to their primary caregivers, children are much less likely to be able to successfully navigate the social dynamics of school. When they reach puberty without a solid social foundation, they may struggle to form meaningful bonds with others.
The high rates of social dysfunction and incarceration in the United States can be traced back to the country's failure to recognize the impact of developmental trauma on children. The author draws a contrast between the United States and Western European countries, which recognize the problem of developmental trauma and spend more money on diagnosis and treatment while allocating significantly less money to prisons, where many trauma victims end up.
UNCOVERING SECRETS: THE PROBLEM OF TRAUMATIC MEMORY
Chapter 11 analyzes hidden traumas. The author makes use of the work of nineteenth-century pioneer Pierre Janet, who differentiated between what he called "narrative memory," the process by which people recount their traumatic experiences and actual traumatic memories. When a traumatic memory is triggered, the victim may reenact it for hours, even though telling the story takes a minute. Janet coined the term "dissociation" to describe how his patients separated traumatic memories from their lives.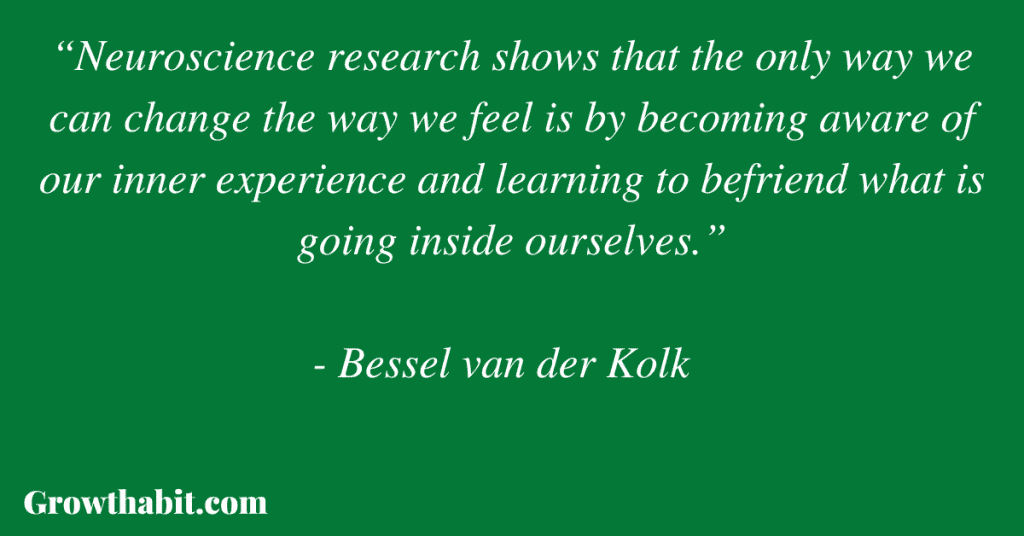 Sigmund Freud developed the "talking cure" at the same time as Janet. Even though Freud's psychoanalytic ideas aren't popular anymore, the talking cure is still one of the most common treatments for trauma victims. Janet observed that many patients reenact their trauma instead of recounting it. The author notes that those without psychiatric training may treat trauma victims as lunatics or criminals.
THE UNBEARABLE HEAVINESS OF REMEMBERING
In chapter 12, the author emphasizes trauma's long-term effects. He cites soldiers in battle. Their bodies continue to keep score: they're nauseous, their hearts are racing, and they're paralyzed with fear.
Survivors of multiple wars experienced similar patterns of repression despite a wide variety of symptoms. War's extraordinary nature left returning soldiers with a secure present and an unbearable past. War creates duality in many subjects, but other trauma patients share the same pattern. The author mentions Nancy, who received insufficient anesthesia during surgery and remained awake. She dreamed about this memory first. She had daily flashbacks of the surgical team laughing and gossiping while hurting her.
Healing was a slow process for Nancy, and it didn't begin until she was able to put her memories in the past and focus on developing a physically strong foundation through Pilates.
HEALING FROM TRAUMA: OWNING YOUR SELF
Chapter 13 examines "taking ownership of oneself" as a way to heal trauma. After a traumatic event, one must regain control of one's body and mind in order to heal from the experience. The author suggests four ways to achieve this: becoming focused and relaxed maintaining that calm in the face of distressing memories and other trigger events, living in the moment and interacting with others, and not keeping secrets from oneself.
Accepting what has happened and developing coping mechanisms are essential first steps on the road to recovery. First, comprehend the trauma. An individual's feelings cannot be altered through understanding, but it may help them fight off the temptation to give in to their emotions. The author then discusses ways to keep calm. Yoga can help a patient feel relaxed mentally and physically even when experiencing horrible memories. Mindfulness techniques help people notice how thoughts affect physical sensations. Having a strong community and support system in the background is also important for the healing process.
Different therapies work for different people, but the goal is always to reintegrate the traumatic event into the patient's life so that the mind treats it as a normal memory rather than a constant threat.
LANGUAGE: MIRACLE AND TYRANNY
In chapter 14, van der Kolk shares his views on "language therapy" treating a traumatic event. He notes that there is a limit to what can be accomplished by words alone in the process of recovering from traumatic experiences. One is that, rather than bringing people together, discussing traumatic experiences might isolate them. In addition, when the language center of the brain shuts down, trauma victims might become completely mute. Those with PTSD frequently have a lot harder time expressing themselves than the average person does, and this is true even when the symptoms of trauma are mild.
Too much emphasis on language also increases the risk of approaching therapy as though it were an argument. The author argues that restoring the patient's mental and physical sense of self is more important than disputing with a patient who makes nonsensical assertions.
LETTING GO OF THE PAST: EMDR
In Chapter 15, van der Kolk examines a technique for dealing with traumatic experiences called, EDMR.
Psychotherapist Francine Shapiro discovered the beneficial effects of rapid eye movement on her own distressing memories, which led to the development of EMDR. As soon as the author realized how effective it was, he incorporated it into his own therapeutic toolkit; he found that it was especially useful when dealing with patients who did not speak English.
According to the author, eye movement desensitization and reprocessing (EMDR) is a powerful but poorly understood technique for processing traumatic memories, which can help bring previously repressed memories to the surface and establish associations with other memories. He explains it as a strategy for reorganizing previously collected data. Although EMDR does spend some time recalling the traumatic event, it serves primarily as a jumping-off point for a more open-ended process of free association. Similarly to the mystery surrounding EMDR's mechanism of action, the same cannot be said of many pharmaceuticals, including the antidepressant Prozac. Antibiotic properties of penicillin were discovered in 1928, but the author notes that its mechanism of action wasn't fully elucidated discovered until 1965. This gives him faith that EMDR can eventually be formally recognized as a scientific method.
LEARNING TO INHABIT YOUR BODY: YOGA
Chapter 16 focuses on the positive effects the author has seen yoga have on his patients.
Those with PTSD who have shut down emotionally will have a slower heart rate despite their rapid and shallow breathing. As a form of relaxation exercise, hatha yoga can help patients improve their HRV and breathing while also reducing their physical stress.
Asana (Yoga posture) encourages paying attention to one's breathing and one's present bodily sensations. Some patients reported an improvement in their ability to identify and verbalize their emotions, as well as an increase in their level of physical comfort and confidence.
PUTTING THE PIECES TOGETHER: SELF-LEADERSHIP
In chapter 17, van der Kolk analyzes the way responses to trauma can present.
Mental health issues frequently begin as coping mechanisms. When people are feeling down and ashamed, they often turn to fantasy as a means of coping. These survival mechanisms tend to fade into the background fairly quickly in most people, but in trauma patients, they are more likely to stick around for good. Furthermore, each person's personality consists of different facets. Many people's internal splits are merely temporary states of mind and not distinct identities. Nonetheless, traumatic experiences amplify preexisting dissociation and pit the mind's fragments against one another as if they were entirely distinct individuals.
The author suggests that self-leadership can help with this type of traumatic dissociation. In the same way that the person in charge of an organization is responsible for all aspects of that organization, a person needs to have an internal leader who looks out for all aspects of themselves.
FILLING IN THE HOLES: CREATING STRUCTURES
In chapter 18, the author describes other methods to deal with trauma.  Even if they had otherwise made significant strides in their therapy, many of his patients were still unable to fill the void within themselves. The author outlines a technique pioneered by Albert Pesso to build tableaux or "structures" of the past. In this therapy model, the patient plays the lead role in a drama while the other participants play supporting roles as significant others in their lives. The protagonists direct their own plays, recounting what happened and how they wish the other characters had acted. The development of these tableaux enables the protagonist to both reveal the truth and come up with a solution that is more satisfying.
REWIRING THE BRAIN: NEUROFEEDBACK
In chapter 19, the author describes his findings on "neurofeedback" and its impacts on trauma. Electroencephalogram (EEG) readings can reveal the specific patterns of brain waves produced by a variety of mental processes (EEG). In 2000, researchers discovered that traumatized people's brain waves behave differently when viewing both traumatic and non-traumatic imagery. This group has trouble forming meaningful patterns and ignoring irrelevant data. After considering these findings for seven years, the author finally realized that neurofeedback could be able to help alter these brain wave patterns. Through the use of neurofeedback, the brain can be trained to produce more of certain frequencies while suppressing others, thereby generating novel patterns that boost both its inherent complexity and its inclination toward self-regulation.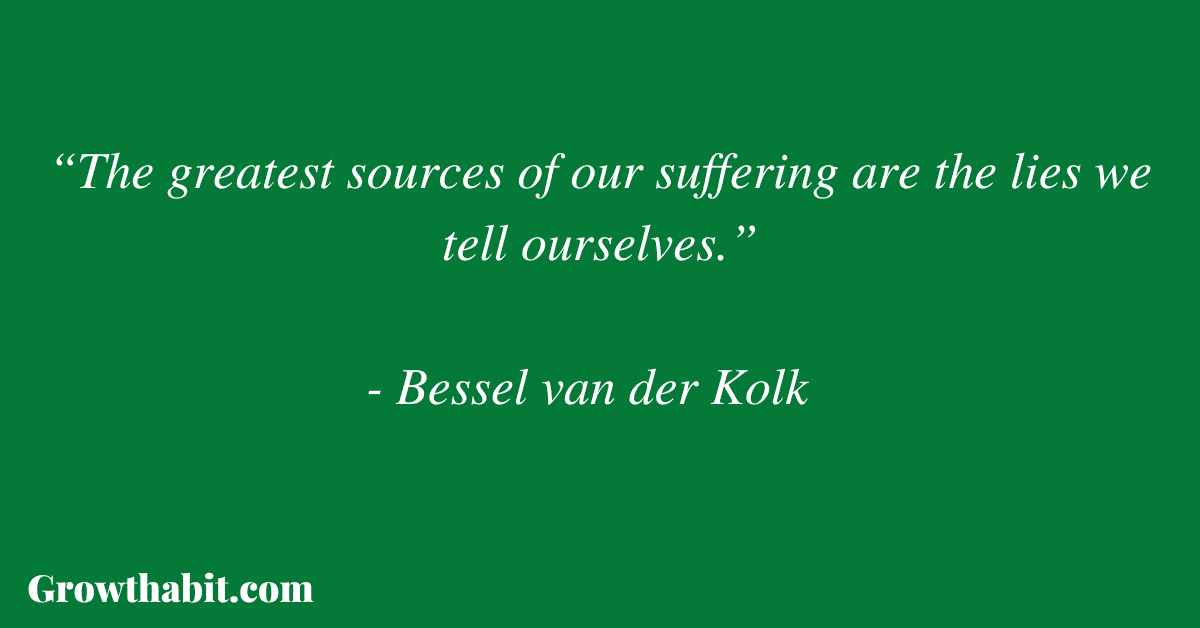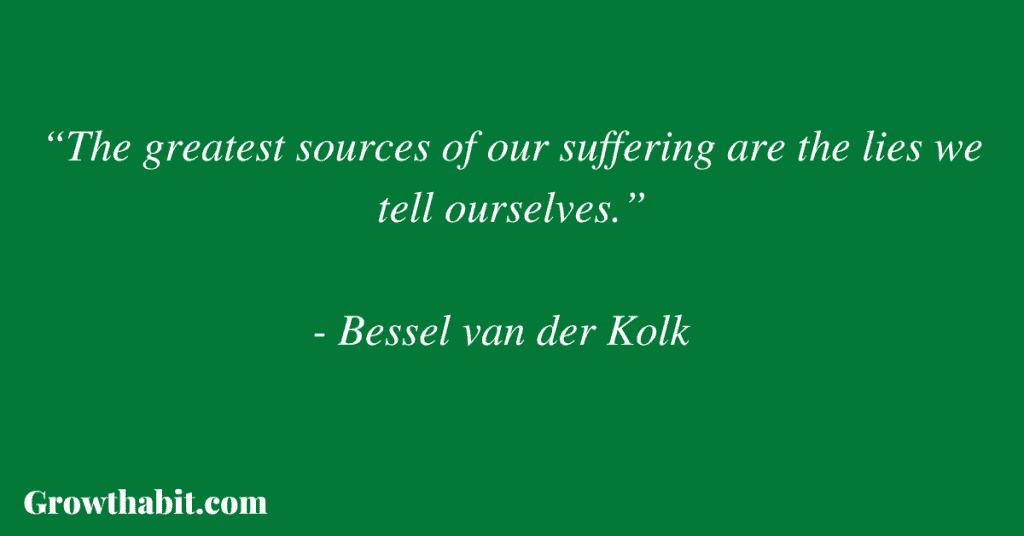 The parameters of neurofeedback can be changed to promote and reward some mental characteristics, such as calm, relaxation, and focus, while discouraging others. The author has had some success with neurofeedback; patients have reported feeling calmer, more focused, and less anxious after sessions, despite the technique's youth and the fact that most of its present uses do not entail trauma.
FINDING YOUR VOICE: COMMUNAL RHYTHMS AND THEATER
In chapter 20, van der Kolk shares the advantages that theatre can have on patients dealing with trauma.
Several benefits of theater-based trauma therapy are often overlooked. First of all, many of the most powerful dramas are about traumatic events and serve as catharsis for the audience. Putting on a play is a great way to let your guard down and work toward a common goal as part of a team. The author describes a foster child who played Ophelia in a production of Hamlet as part of a Shakespeare program. She was extremely anxious about the program, but she stuck it out because she knew the play couldn't go on without her. People who have participated in similar theater programs have remarked on the sense of accomplishment they gained from producing something meaningful and feeling "more in the world" than they had before.
Most Important Keywords, Sentences, Quotes
CHAPTER 1. LESSONS FROM VIETNAM VETERANS
"We have learned that trauma is not just an event that took place sometime in the past; it is also the imprint left by that experience on mind, brain, and body. This imprint has ongoing consequences for how the human organism manages to survive in the present. Trauma results in a fundamental reorganization of the way mind and brain manage perceptions. It changes not only how we think and what we think about, but also our very capacity to think."
"The greatest sources of our suffering are the lies we tell ourselves."
CHAPTER 2 – REVOLUTIONS IN UNDERSTANDING MIND AND BRAIN
 /
CHAPTER 3 – LOOKING INTO THE BRAIN: THE NEUROSCIENCE REVOLUTION
/
CHAPTER 4 –  RUNNING FOR YOUR LIFE: THE ANATOMY OF SURVIVAL
"Psychologists usually try to help people use insight and understanding to manage their behavior. However, neuroscience research shows that very few psychological problems are the result of defects in understanding; most originate in pressures from deeper regions in the brain that drive our perception and attention. When the alarm bell of the emotional brain keeps signaling that you are in danger, no amount of insight will silence it."
CHAPTER 5 – BODY-BRAIN CONNECTIONS
"Being able to feel safe with other people is probably the single most important aspect of mental health; safe connections are fundamental to meaningful and satisfying lives."
CHAPTER 6 – LOSING YOUR BODY, LOSING YOUR SELF
"Traumatized people chronically feel unsafe inside their bodies: The past is alive in the form of gnawing interior discomfort. Their bodies are constantly bombarded by visceral warning signs, and, in an attempt to control these processes, they often become expert at ignoring their gut feelings and of what is played out inside. They learn to hide from their selves."
CHAPTER 7 – GETTING ON THE SAME WAVELENGTH: ATTACHMENT AND ATTUNEMENT
/
CHAPTER 8 – TRAPPED IN RELATIONSHIPS: THE COST OF ABUSE AND NEGLECT
/
CHAPTER 9 – WHAT'S LOVE GOT TO DO WITH IT?
"As the ACE study has shown, child abuse and neglect is the single most preventable cause of mental illness, the single most common cause of drug and alcohol abuse, and a significant contributor to leading causes of death such as diabetes, heart disease, cancer, stroke, and suicide."
CHAPTER 10 – DEVELOPMENTAL TRAUMA: THE HIDDEN EPIDEMIC
/
CHAPTER 11 – UNCOVERING SECRETS: THE PROBLEM OF TRAUMATIC MEMORY
/
CHAPTER 12 – THE UNBEARABLE HEAVINESS OF REMEMBERING.
"The essence of trauma is that it is overwhelming, unbelievable, and unbearable. Each patient demands that we suspend our sense of what is normal and accept that we are dealing with a dual reality: the reality of a relatively secure and predictable present that lives side by side with a ruinous, ever-present past."
CHAPTER 13 – HEALING FROM TRAUMA: OWNING YOUR SELF
"Neuroscience research shows that the only way we can change the way we feel is by becoming aware of our inner experience and learning to befriend what is going inside ourselves."
CHAPTER 14 – LANGUAGE: MIRACLE AND TYRANNY
"As long as you keep secrets and suppress information, you are fundamentally at war with yourself […]The critical issue is allowing yourself to know what you know. That takes an enormous amount of courage."
CHAPTER 15 – LETTING GO OF THE PAST: EMDR
/
CHAPTER 16 – LEARNING TO INHABIT YOUR BODY: YOGA
/
CHAPTER 17 – PUTTING THE PIECES TOGETHER: SELF-LEADERSHIP
"Beneath the surface of the protective parts of trauma survivors there exists an undamaged essence, a Self that is confident, curious, and calm, a Self that has been sheltered from destruction by the various protectors that have emerged in their efforts to ensure survival. Once those protectors trust that it is safe to separate, the Self will spontaneously emerge, and the parts can be enlisted in the healing process."
CHAPTER 18 – FILLING IN THE HOLES: CREATING STRUCTURES
/
CHAPTER 19 – REWIRING THE BRAIN: NEUROFEEDBACK
/
CHAPTER 20 – FINDING YOUR VOICE: COMMUNAL RHYTHMS AND THEATER
/
Book Review (Personal Opinion):
The book "The Body Keeps the Score" breaks out the ways in which traumatic experiences can have an effect on our minds, brains, and bodies. The author examines a variety of therapeutic approaches, highlighting both their benefits and their drawbacks. Van der Kolk interweaves autobiographical and biographical stories throughout the technical components of the book.
These stories enable the reader to gain a better understanding of what has happened in the field of psychiatry and psychology in relation to trauma, as well as what has not happened. The stories aid to firmly establish both the imagination and the capacity to comprehend what it is that he is trying to say.
The book is written in a somewhat technical manner, covering topics such as neuroscience, brain studies, physiology, and several professional acronyms. However, the author makes an effort to disclose all relevant information to readers. This book has excellent writing and offers both insight and knowledge on the subject of traumatic experiences.
Rating: 10/10
This Book Is For:
• Anybody who wants to know about his or her traumatic experiences in a researched manner
• Students or psychologists who want to get deeper into trauma and its effects
• People who want to understand how a loved one may feel after a traumatic experience.
If You Want To Learn More
Here is the presentation of Bessel van der Kolk's book "The Body Keeps the Score: Brain, Mind, and Body in the Healing of Trauma"
How I've Implemented The Ideas From The Book
.When it comes to traumatic experiences, I came to the realization that the connection between the bodily and the psychological aspects is really significant. I became aware that I was, as many people do, bottling up a lot of feelings inside of my body. That's why I'm starting to practice mindfulness on a daily basis.
One Small Actionable Step You Can Do
One of the first steps to getting over trauma is to understand what happened and why we can't feel peace and joy. The mind turns off its emotional ability to survive through horrifying despair, but in doing so, it also shuts down the positive emotions. If you suffer from chronic pain, fatigue, anxiety, or depression, those symptoms are your body's way of letting you know that it needs to let out something. When that happens, the emotional mind comes back to life, and after a lot of grief, anger, sadness, and fear, there is room for peace and joy.