How To Read A Book by Mortimer Adler is one of the major inspirations for Growthabit.com. The book introduces to us the four levels of reading (elementary, inspectional, analytical, and syntopic) and explains how to get the most out of the books you read.
Book Title: How to Read a Book: The Classic Guide to Intelligent Reading
Author: Mortimer J. Adler
Date of Reading: March-April, 2018
Rating: 8/10
What Is Being Said In Detail:
How To Read A Book teaches us not only why it's important to read books, but how to read them. The entire book is structured around 4 levels of reading:
elementary
inspectional
analytical
syntopic
How To Read A Book has 4 major parts and several chapters in them.
Part One (1)
…talks concerns itself about the dimensions of reading. The chapters inside talk about:
The art of reading books
The first (elementary) level of reading. You learn to decipher the ink on paper and "read."
The second (inspectional) level of reading. That level of reading has two parts:

Systemic skimming or pre-reading. This is where you read the chapter titles, headings, subheads, the intro and outro of the book, and the book jacket (if there's one).
Superficial reading. This is where you just sit down and read the book without stopping to ponder about a new word, argument, or writing anything as a note or marginalia.
Inspectional reading helps us create an outline/skeleton/structure of the book so we can easily systemize the information.

The four basic questions the reader needs to ask when reading the book:

What is the book about as a whole?
What is being said in detail, and how?
Is the book true, in whole or part?
What of it?
Part Two(2)
…is solely focused on the third level of reading: analytical reading. The chapters inside talk about:
Classifying the book as a theoretical or practical book and the things we can learn from the title of the book.
X-raying the book and the first stage of analytical reading:

Classyfing the book according to type and subject matter.
Stating what the book is about in a single sentence or paragraph.
Explain by order the major parts of the book and provide simple outlines for the parts.
Define the problem(s) the author is grasping (dealing) with.

Defining the keywords and phrases the author uses.
Finding the key propositions, arguments, sentences, phrases, and solutions the author provides.
The second stage of analytical reading:

Come to terms with the author by interpreting his key words.
Finding the author's main arguments by dealing with his most important sentences and paragraphs.
Knowing and understanding the author's main arguments. Or if they can't be found, constructing them from the provided material.
Determine what problems did the author solve and which ones did he fail to solve.

Figuring out how to criticize a book fairly (you first need to understand the book to start criticizing it).
How to properly agree or disagree with the author
The third stage of analytical reading:

You are not allowed to say "I agree," or "I disagree" until you can say "I understand."
Don't disagree in a heated, provoking manner
Demonstrate that you understand the difference between personal opinion and knowledge (present good reasons for any criticism you make).
Show where the author is illogical, misinformed, uninformed, and/or incomplete.

How to use addendums (dictionaries, abstracts, and other books) when reading a book.
Part Three (3)
…talks about how we should approach different reading materials. The chapters inside talk about:
How to read practical books
How to read history
How to read poems, stories, and plays
How to read social sciences
Part Four (4)
…presents the ultimate reading goals. The chapters inside talk about:
The fourth level of reading: syntopic reading. It's the type of reading that's also called comparative reading. It involves reading a lot of books about the same topic and comparing ideas about it.
The five steps in syntopical reading:

Finding the relevant passages
Bringing the author's terms
Getting the questions clear
Defining the issues

What great books can do to the growth of your mind
Most Important Keywords, Sentences, Quotes:
Preface
"Do pupils in school learn to read their mother tongue effectively? Yes and no. Up to the fifth and sixth grade, reading, on the whole, is effectively taught and well learned. To that level we find a steady and general improvement, but beyond it the curves flatten out to a dead level."
"It has been shown, for instance, that the average high-school student is amazingly inept at indicating the central thought of a passage, or the levels of emphasis and subordination in an argument or exposition. To all intents and purposes he remains a sixth-grade reader till well along in college."
PART ONE – The Dimensions of Reading
"We do not have to know everything about something in order to understand it; too many facts are often as much of an obstacle to understanding as too few."
"gradually lift yourself from a state of understanding less to one of understanding more."
"There are two. First, there is initial inequality in understanding. The writer must be "superior" to the reader in understanding, and his book must convey in readable form the insights he possesses and his potential readers lack."
"Second, the reader must be able to overcome this inequality in some degree, seldom perhaps fully, but always approaching equality with the writer. To the extent that equality is approached, clarity of communication is achieved."
"It is true, of course, that you should be able to remember what the author said as well as know what he meant. Being informed is prerequisite being enlightened."
"Knowledge must grow in his mind if learning is to take place."
"If you ask a living teacher a question, he will probably answer you. If you are puzzled by what he says, you can save yourself the trouble of thinking by asking him what he means. If, however, you ask a book a question, you must answer it yourself."
"Inspectional reading is the art of skimming systematically."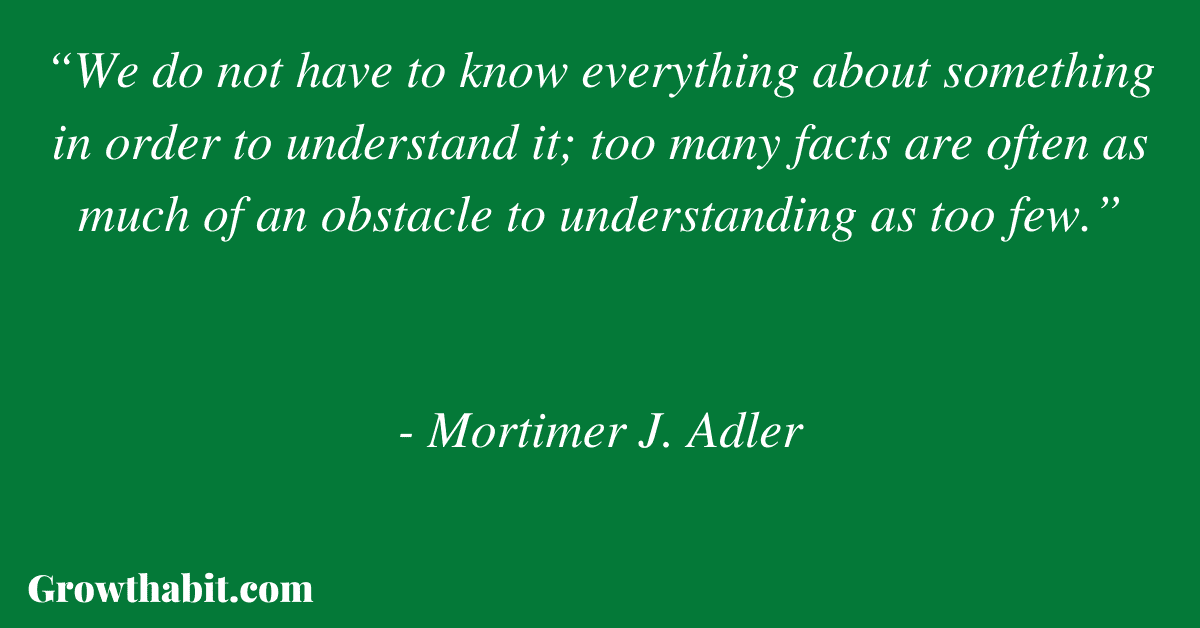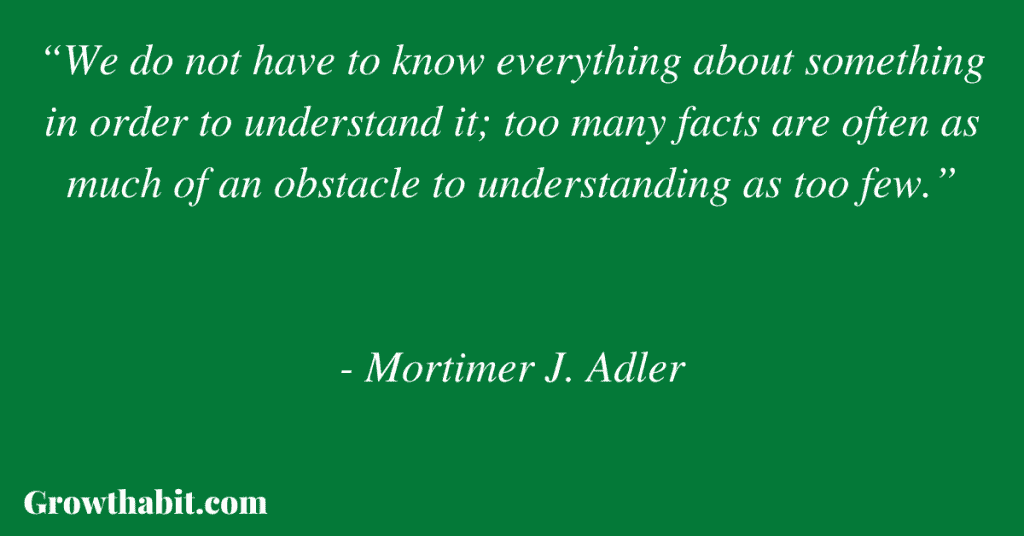 "Francis Bacon once remarked that "some books are to be tasted, others to be swallowed, and some few to be chewed and digested." Reading a book analytically is chewing and digesting it."
"Syntopical reading involves more. With the help of the books read, the syntopical reader is able to construct an analysis of the subject that may not be in any of the books."
"A good college, if it does nothing else, ought to produce competent syntopical readers. A college degree ought to represent general competence in reading such that a graduate could read any kind of material for general readers and be able to undertake independent research on almost any subject (for that is what syntopical reading, among other things, enables you to do)."
"But, as we noted in Chapter 2, the levels of reading are cumulative. Thus, elementary reading is contained in inspectional reading, as, indeed, inspectional reading is contained in analytical reading, and analytical reading in syntopical reading."
"Inspectional Reading I:
Systematic Skimming or Pre-reading"
"1 . LOOK AT TITLE PAGE AND, IF THE BOOK HAS ONE, AT ITS PREFACE. Read each quickly."
"2. STUDY THE TABLE OF CONTENTS to obtain a general sense of the book's structure; use it as you would a road map before taking a trip."
"3. CHECK THE INDEX if the book has one— most expository works do."
4. If the book is a new one with a dust jacket, READ THE PUBLISHER'S BLURB.
"5. From your general and still rather vague knowledge of the book's contents, LOOK NOW AT THE CHAPTERS THAT SEEM TO BE PIVOTAL TO ITS ARGUMENT. If these chapters have summary statements in their opening or closing pages, as they often do, read these statements carefully."
"6. Finally, TURN THE PAGES, DIPPING IN HERE AND THERE, READING A PARAGRAPH OR TWO, SOMETIMES SEVERAL PAGES IN SEQUENCE, NEVER MORE THAN THAT."
"Inspectional Reading II:
Superficial Reading"
"That rule is simply this: In tackling a difficult book for the first time, read it through without ever stopping to look up or ponder the things you do not understand right away."
"A better formula is this: Every book should be read no more slowly than it deserves, and more quickly than you no can read it with satisfaction and comprehension."
"Skimming or pre-reading a book is always a good idea; it is necessary when you do not know, as is often the case, whether the book you have in hand is worth reading carefully."
The Essence of Active Reading:
The Four Basic Questions a Reader Asks
"Ask questions while you read-questions that you yourself must try to answer in the course of reading."
"There are four main questions you must ask about any book."
"1. WHAT IS THE BOOK ABOUT AS A WHOLE? You must try to discover the leading theme of the book, and how the author develops this theme in an orderly way by subdividing it into its essential subordinate themes or topics."
"2. WHAT IS BEING SAID IN DETAIL, AND HOW?"
"3. IS THE BOOK TRUE, IN WHOLE OR PART?"
"When you understand a book, however, you are obligated, if you are reading seriously, to make up your own mind. Knowing the author's mind is not enough."
"4. WHAT OF IT? If the book has given you information, you must ask about its significance."
"Reading a book on any level beyond the elementary is essentially an effort on your part to ask it questions (and to answer them to the best of your ability)."
"The last question-What of it?-is probably the most important one in syntopical reading. Naturally, you will have to answer the first three questions before attempting the final one."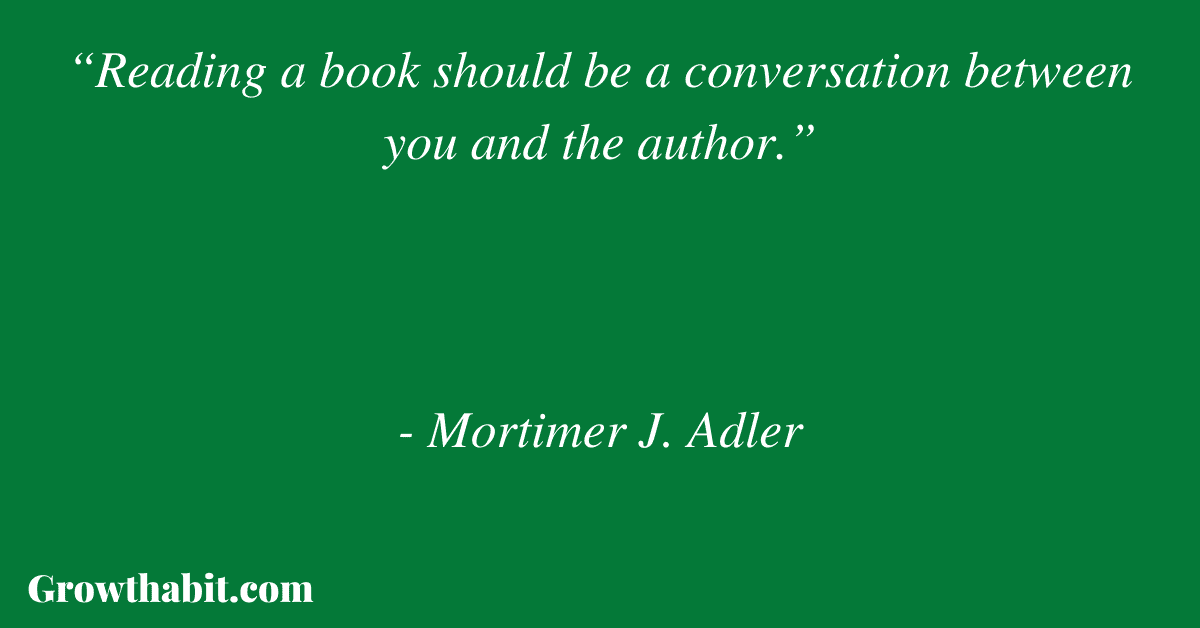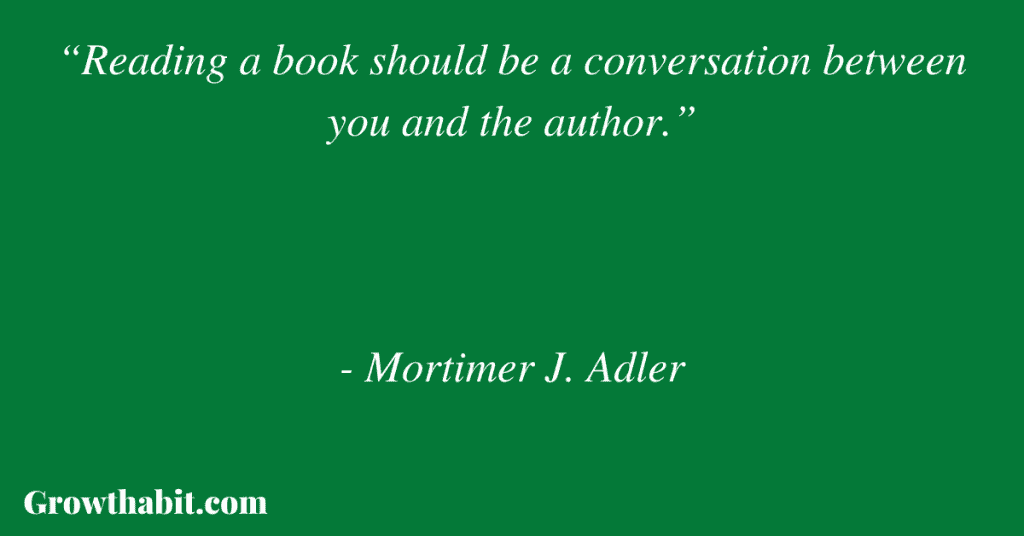 "More than that, you must know how to answer them precisely and accurately. The trained ability to do that is the art of reading."
"Reading a book should be a conversation between you and the author."
"The point to recognize is that these notes primarily concerned the structure of the book, and not its substance-at least not in detail. We therefore call this kind of note-making structural."
"Then, during an analytical reading, you will need to give answers to questions about the truth and significance of the book. The notes you make at this level of reading are, therefore, not structural but conceptual."
"When we speak of a man as skilled in any way, we do not mean that he knows the rules of making or doing something, but that he possesses the habit of making or doing it."
"Reading is like skiing. When done well, when done by an expert, both reading and skiing are graceful, harmonious activities. When done by a beginner, both are awkward, frustrating, and slow."
"But in order to forget them as separate acts, you have to learn them first as separate acts."
"After you have practiced the parts separately, you can not only do each with greater facility and less attention but can also gradually put them together into a smoothly running whole."
PART TWO – The Third Level of Reading: Analytical Reading
PIGEONHOLING A BOOK
"RULE 1. YOU MUST KNOW WHAT KIND OF BOOK YOU ARE READING, AND YOU SHOULD KNOW THIS AS EARLY IN THE PROCESS AS POSSIBLE, PREFERABLY BEFORE YOU BEGIN TO READ."
"As we have already suggested, you do so by first inspecting the book-giving it an inspectional reading. You read the title, the subtitle, the table of contents, and you at least glance at the preface or introduction by the author and at the index. If the book has a dust jacket, you look at the publisher's blurb. These are the signal flags the author waves to let you know which way the wind is blowing. It is not his fault if you will not stop, look, and listen."
"We must pass from knowing what is the case to knowing what to do about it if we wish to get somewhere. This can be summarized in the distinction between knowing that and knowing how. Theoretical books teach you that something is the case. Practical books teach you how to do something you want to do or think you should do."
X-RAYING A BOOK
"RULE 2. STATE THE UNITY OF THE WHOLE BOOK IN A SINGLE SENTENCE, OR AT MOST A FEW SENTENCES (A SHORT PARAGRAPH)."
"To find out what a book is about in this sense is to discover its theme or main point."
"The reader who says, "I know what it is, but I just can't say it," probably does not even fool himself."
"RULE 3. SET FORTH THE MAJOR PARTS OF THE BOOK, AND SHOW HOW THESE ARE ORGANIZED INTO A WHOLE, BY BEING ORDERED TO ONE ANOTHER AND TO THE UNITY OF THE WHOLE."
"There is a difference between a heap of bricks, on the one hand, and the single house they can constitute, on the other."
"This fourth rule can be stated thus: RULE 4. FIND OUT WHAT THE AUTHOR'S PROBLEMS WERE. The author of a book starts with a question or a set of questions. The book ostensibly contains the answer or answers."
"The First Stage of Analytical Reading, or Rules for Finding What a Book Is About 1. Classify the book according to kind and subject matter. 2. State what the whole book is about with the utmost brevity. 3. Enumerate its major parts in their order and relation, and outline these parts as you have outlined the whole. 4. Define the problem or problems the author is trying to solve."
COMING TO TERMS WITH AN AUTHOR
"RULE 5. FIND THE IMPORTANT WORDS AND THROUGH THEM COME TO TERMS WITH THE AUTHOR."
DETERMINING AN AUTHOR'S MESSAGE
"Thus, the two processes, outlining and interpretation, meet at the level of propositions and arguments. You work down to propositions and arguments by dividing the book into its parts. You work up to arguments by seeing how they are composed of propositions and ultimately of terms. When you have completed the two processes, you can really say that you know the contents of a book."
"Reading is learning" is a simple sentence; but if at one place we mean by "learning" the acquisition of information, and at another we mean the development of understanding, the proposition is not the same, because the terms are different. Yet the sentence is the same."
"Different authors frequently say the same thing in different words, or different things using almost the same words."
"RULE 7, as follows: FIND IF YOU CAN THE PARAGRAPHS IN A BOOK THAT STATE ITS IMPORTANT ARGUMENTS; BUT IF THE ARGUMENTS ARE NOT THUS EXPRESSED, YOUR TASK IS TO CONSTRUCT THEM, BY TAKING A SENTENCE FROM THIS PARAGRAPH, AND ONE FROM THAT, UNTIL YOU HAVE GATHERED TOGETHER THE SEQUENCE OF SENTENCES THAT STATE THE PROPOSITIONS THAT COMPOSE THE ARGUMENT."
"RULE 8. FIND OUT WHAT THE AUTHOR'S SOLUTIONS ARE."
"Up to this point, you have been following the author. From this point on, you are going to have a chance to argue with the author and express yourself."
"The Second Stage of Analytical Reading, or Rules for Finding What a Book Says (Interpreting Its Contents) 5. Come to terms with the author by interpreting his key words. 6. Grasp the author's leading propositions by dealing with his most important sentences. 7. Know the author's arguments, by finding them in, or constructing them out of, sequences of sentences. 8. Determine which of his problems the author has solved, and which he has not; and as to the latter, decide which the author knew he had failed to solve."
CRITICIZING A BOOK FAIRLY
"The most teachable reader is, therefore, the most critical."
"But the expert no less than the beginner must wait until he understands before he starts to criticize."
"RULE 9. YOU WITH MUST BE ABLE TO SAY, WITH REASONABLE CERTAINTY 'I UNDERSTAND,' BEFORE YOU CAN SAY ANY ONE OF THE FOLLOWING THINGS: 'I AGREE,' OR 'I DISAGREE,' OR 'I SUSPEND JUDGMENT.'"
"To agree without understanding is inane. To disagree without understanding is impudent."
"The same is true of other writers, such as Plato and Kant, Adam Smith and Karl Marx, who have not been able to say everything they knew or thought in a single work. Those who judge Kant's Critique of Pure Reason without reading his Critique of Practical Reason, or Adam Smith's Wealth of Nations without reading his Theory of the Moral Sentiments, or The Communist Manifesto without Marx's Capital, are more likely than not to be agreeing or disagreeing with some thing they do not fully understand."
"It is RULE 10, and it can be expressed thus: WHEN YOU DISAGREE, DO SO REASONABLY, AND NOT DISPUTATIOUSLY OR CONTENTIOUSLY."
"I cannot refute you, Socrates, said Agatahon: Let's assume what you say is true.
Say rather, Agathon, that you cannot refute the truth; for Socrates is easily refuted."
"Most people think that winning the argument is what matters, not learning the truth."
"Where the second maxim urged you not to disagree disputatiously, this one warns you against disagreeing hopelessly. One is hopeless about the fruitfulness of discussion if he does not recognize that all rational men can agree. Note that we said "can agree." We did not say all rational men do agree. Even when they do not agree, they can. The point we are trying to make is that disagreement is futile agitation unless it is undertaken with the hope that it may lead to the resolution of an issue."
"RULE 11, therefore, can be stated as follows: RESPECT THE DIFFERENCE BETWEEN KNOWLEDGE AND MERE PERSONAL OPINION, BY GIVING REASONS FOR ANY CRITICAL JUDGMENT YOU MAKE,"
AGREEING OR DISAGREEING WITH AN AUTHOR
"The first thing a reader says is that he understands or that he does not. In fact, he must say he understands, in order to say more. If he does not understand, he should keep his peace and go back to work on the book."
"I understand but I disagree," he can make the following remarks to the author: (1) "You are uninformed'; (2) "You are misinformed'; (3) " You are illogical-your reasoning is not cogent"; (4) "Your analysis is incomplete."
"If you have not been able to show that the author is uninformed, misinformed, or illogical on relevant matters, you simply cannot disagree. You must agree. You cannot say, as so many students and others do, "I find nothing wrong with your premises, and no errors in reasoning, but I don't agree with your conclusions."
"To a Christian who believes in personal immortality, the writings of Epictetus or Marcus Aurelius are an incomplete account of human happiness."
"I. The First Stage of Analytical Reading: Rules for Finding What a Book Is About 1. Classify the book according to kind and subject matter. 2. State what the whole book is about with the utmost brevity. 3. Enumerate its major parts in their order and relation, and outline these parts as you have outlined the whole. 4. Define the problem or problems the author has tried to solve."
"II. The Second Stage of Analytical Reading: Rules for Interpreting a Book's Contents 5. Come to terms with the author by interpreting his key words. 6. Grasp the author's leading propositions by dealing with his most important sentences. 7. Know the author's arguments, by finding them in, or constructing them out of, sequences of sentences. 8. Determine which of his problems the author has solved, and which he has not; and of the latter, decide which the author knew he had failed to solve."
"Ill. The Third Stage of Analytical Reading: Rules for Criticizing a Book as a Communication of Knowledge A. General Maxims of Intellectual Etiquette 9. Do not begin criticism until you have completed your out line and your interpretation of the book. (Do not say you agree, disagree, or suspend judgment, until you can say "I understand.") 10. Do not disagree disputatiously or contentiously. 11. Demonstrate that you recognize the difference between knowledge and mere personal opinion by presenting good reasons for any critical judgment you make. B. Special Criteria for Points of Criticism 12. Show wherein the author is uninformed. 13. Show wherein the author is misinformed. 14. Show wherein the author is illogical. 15. Show wherein the author's analysis or account is incomplete."
AIDS TO READING
"Common experience is available to all men and women just because they are alive. Special experience must be actively sought and is available only to those who go to the trouble of acquiring it."
"Such works cannot hurt you if you have already read the book and know where the handbook is wrong, if it is. But if you depend wholly on the handbook, and never read the original book, you may be in bad trouble."
PART THREE – Approaches to Different Kinds of Reading Matter
"The most important thing to remember about any practical book is that it can never solve the practical problems with which it is concerned. A theoretical book can solve its own problems. But a practical problem can only be solved by action itself."
"That is what it means to say that nothing but action solves practical problems, and action occurs only in the world, not in books."
"Finally, one last negative rule. Don't criticize fiction by the standards of truth and consistency that properly apply to communication of knowledge."
"We say "strictly speaking," because it is obvious that imaginative works have often led readers to act in various ways. Sometimes a story is a better way of getting a point across-be it a political, economic, or moral point-than an expository work making the same point. George Orwell's Animal Farm and his 1984 are both powerful attacks on totalitarianism. Aldous Huxley's Brave New World is an eloquent diatribe against the tyranny of technological progress. Alexander Solzhenitsyn's The First Circle tells us more about the petty cruelty and inhumanity of the Soviet bureaucracy than a hundred factual studies and reports. Such works have been banned and censored many times in the history of mankind, and the reason for that is clear. As E. B. White once remarked, "A despot doesn't fear eloquent writers preaching freedom he fears a drunken poet who may crack a joke that will take hold."
"The second is: read a history not only to learn what really happened at a particular time and place in the past, but also to learn the way men act in all times and places, especially now."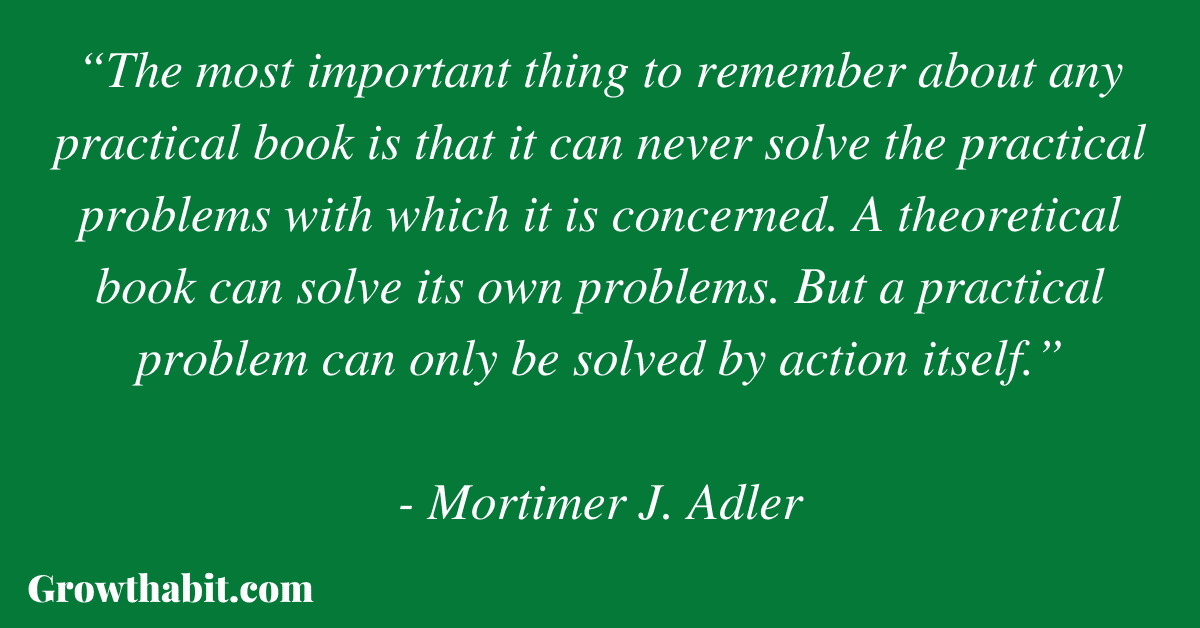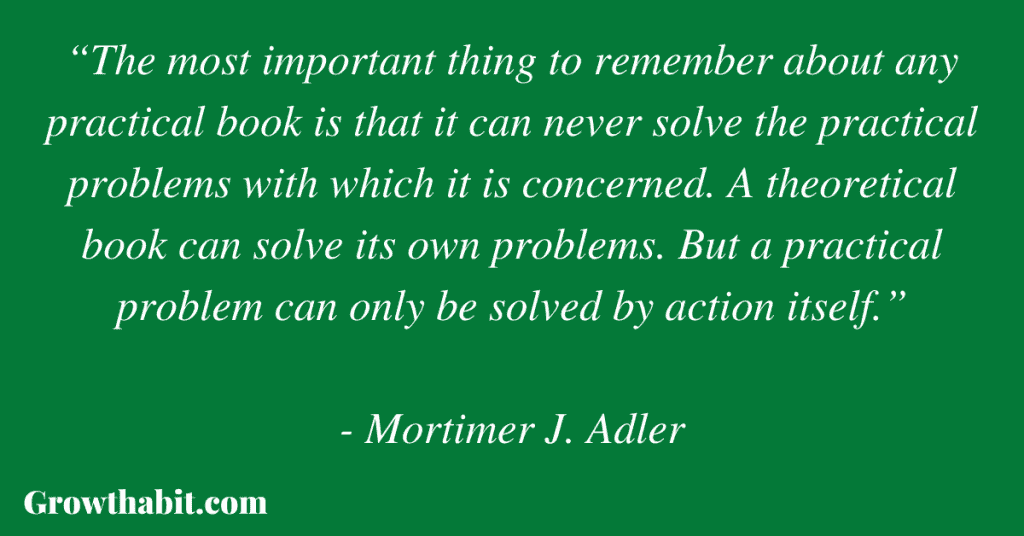 "In fact, much of what anyone writes on any subject is autobiographical. There is a great deal of Plato in the Republic, of Milton in Paradise Lost, of Goethe in Faust-though we may not be able to put our finger on it exactly. If we are interested in humanity, we will tend, within reasonable limits, to read any book partly with an eye to discovering the character of its author."
"Second-order questions are, almost by definition, ones of narrow appeal; and professional philosophers, like scientists, are not interested in the views of anyone but other experts. This makes modem philosophy very hard to read for non philosophers-as difficult, indeed, as science for nonscientists. We cannot in this book give you any advice about how to read modem philosophy as long as it is concerned exclusively with second-order questions. However, there are philosophical books that you can read, and that we believe you should read. These books ask the kinds of questions that we have called first-order ones. It is not accidental that they were also written primarily for a lay audience rather than exclusively for other philosophers."
"The first mistake is to refuse to accept, even temporarily,the articles of faith that are the first principles of the author. As a result, the reader continues to struggle with these first principles, never really paying attention to the book itself. The second mistake is to assume that, because the first principles are dogmatic, the arguments based on them, the reasoning that they support, and the conclusions to which they lead are all dogmatic in the same way."
PART FOUR – The Ultimate Goals of Reading
"But to read a hundred books analytically might well take you ten years."
"The first thing to do when you have amassed your bibliography is to inspect all of the books on your list. You should not read any of them analytically before inspecting all of them."
"STEP 1 IN SYNTOPICAL READING: FINDING THE RELEVANT PASSAGES."
"In syntopical reading, it is you and your concerns that are primarily to be served, not the books that you read."
"STEP 2 IN SYNTOPICAL READING: BRINGING THE AUTHORS TO TERMS."
"Thus it is you who must establish the terms, and bring your authors to them rather than the other way around."
"In syntopical reading, however, we will very quickly be lost if we accept any one author's terminology. We may understand his book, but we will fail to understand the others, and we will find that not much light is shed on the subject in which we are interested."
"STEP 3 IN SYNTOPICAL READING: GETTING THE QUESTIONS CLEAR."
"We should not expect that all of our authors will answer our questions in the same way. If they did, we would once again have no problem to solve; it would have been solved by consensus. Since the authors will differ, we are faced with having to take the next step in syntopical reading."
"STEP 4 IN SYNTOPICAL READING: DEFINING THE ISSUES."
"It is the issue between the authors who answer the question in one way, and those who answer it in one or another opposing way."
"An issue is truly joined when two authors who understand a question in the same way answer it in contrary or contradictory ways."
"STEP 5 IN SYNTOPICAL READING: ANALYZING THE DISCUSSION."
"This is another way of saying that the aim of a project of syntopical reading is not final answers to the questions that are developed in the course of it, or the final solution of the problem with which the project began."
"But it is easier to take no sides than to look at all sides. In this latter respect, the syntopical reader will undoubtedly fail. All possible sides of an issue cannot be exhaustively enumerated. Nevertheless, he must try."
"paradox of syntopical reading. That paradox can be stated thus: Unless you know what books to read, you cannot read syntopically, but unless you can read syntopically, you don't know what to read"
"Summary of Syntopical Reading"
"Having a method without materials to which it can be applied is as useless as having the materials with no method to apply to them."
"If you are reading in order to become a better reader, you cannot read just any book or article."
"You must tackle books that are beyond you, or, as we have said, books that are over your head. Only books of that sort will make you stretch your mind. And unless you stretch, you will not learn."
"A good book does reward you for trying to read it. The best books reward you most of all. The reward, of course, is of two kinds. First, there is the improvement in your reading skill that occurs when you successfully tackle a good, difficult work. Second-and this in the long run is much more important – a good book can teach you about the world and about your-self. You learn more than how to read better; you also learn more about life. You become wiser. Not just more knowledgeable-books that provide nothing but information can produce that result. But wiser, in the sense that you are more deeply aware of the great and enduring truths of human life"
"The greatest books can help you to think better about them, because they were written by men and women who thought better than other people about them."
Book Review (Personal Opinion):
This is such a great book and the way that we structure book summaries at Growthabit.com is heavily influenced by How To Read A Book. The book is quite big (440 pages), but if you want to get the most out of the books you read, you should check it out.
Rating: 8/10
This Book Is For (Recommend):
A heavy reader who wants to get more from the books they read
A young professional who wants to read great books
An entrepreneur who wants to start a book summary business.
If You Want To Learn More
Mortimer Adler made a list of the most influential books of Western Civilization.
You can find the list here:
The Syntopicon: An Index to the Great Ideas
How I've Implemented The Ideas From The Book
Well, if you're reading this on Growthabit (and you are), then you can tell how the book inspired my book summary format.
One Small Actionable Step You Can Do
Whenever you read a book or an article, ask yourself these four questions:
What is the book about as a whole?
What is being said in detail, and how?
Is the book/article true, in whole or part?
What of it?